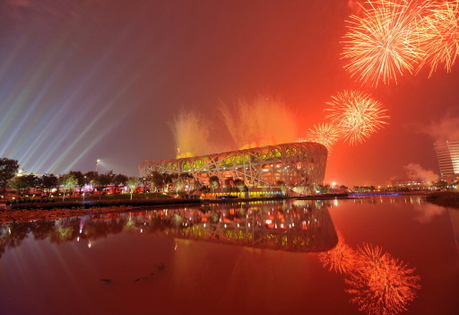 Fireworks explode over the National Stadium, also known as the "Bird's Nest", during the opening ceremony of the 2008 Beijing Olympic Games on August 8, 2008. A thundering display of fireworks exploded over the "Bird's Nest" stadium in the shape of a blossoming red flower as China put the full glory of its rich history on display at the Olympic opening ceremony. Some 91,000 people, many waving Chinese flags, packed into the National Stadium for a spectacular show masterminded by Oscar-nominated filmmaker Zhang Yimou. [Agencies]
BEIJING -- Beijing fired over 1,000 rain dispersal rockets on Friday evening to blow away rain clouds for the smooth opening ceremony of the 29th Olympic Games at the National Stadium, confirmed the local observatory on Saturday morning.
It was the largest rain dispersal operation in China, and the first time that such technology has been used to ensure the weather condition for Olympic opening, said Chinese meteorologists.
"We fired a total of 1,104 rain dispersal rockets from 21 sites in the city between 4:00 p.m. and 11:39 pm on Friday, which successfully intercepted a stretch of rain belt from moving towards the stadium," said Guo Hu, head of the Beijing Municipal Meteorological Bureau (BMB).
The observatory had given rainy weather forecast for the Olympic night, and monitored 90 percent of humidity rate.
"Under such a weather condition, a small bubble in the rain cloud would have triggered rainfall, let alone a lightening," said Guo, whose team had monitored the movement of the rain cloud heading for Beijing from 7:20 am Friday.
Rain had been cited as the biggest threat the Olympic opening by chief director of the ceremony Zhang Yimou days ahead of the Olympic night.
As rain stayed away from the ceremony, the four-hour extravaganza in the Bird's Nest proved a dazzling show that entertained billions of people around the world.
However, the pressure from the rainy weather Friday evening was intense, as BMB gave the yellow alert (third highest degree) for thundershower at 9:35 pm, and forecast rain to hit downtown Beijing within an hour.
The artificial rain dispersal efforts basically drove the rain away as of 10:42 pm, when the show had been going on for over two hours, said BMB experts.
The weather services said that Baoding City of Hebei Province, to the southwest of Beijing received the biggest rainfall of 100 millimeters Friday night, and Beijing's Fangshan District recorded a rainfall of 25 millimeters.