Chinese athletes hope to make history with top performances at their home Olympics next month. Whatever the results, Nike will play a major part.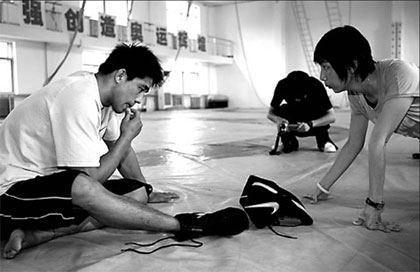 A Nike designer talks with a member of the Chinese national wrestling team for feedbacks on his apparel last year in Beiijing. [China Daily]
The US-based sportswear company has reached a mammoth sponsorship deal with 22 Chinese sports associations to provide outfits for those Olympic teams at the Beijing Games.
For its 2008 Olympic line, Nike's largest-ever effort for a Games, Nike has given top consideration to the needs of Chinese athletes. However, since China excels in many sports for which Nike is not used to designing apparel, the manufacturer is left with an unfamiliar challenge.
Accustomed to designing gear for more popular sports like athletics, swimming and basketball, Nike will instead have to work on products for less-fancied disciplines like equestrian, field hockey, fencing and archery for Team China. (Nike's archrival Adidas won the endorsement rights for China's volleyball and soccer teams while local company Li-Ning will take care of the shooting, gymnastics, diving and table tennis teams.)
"They (Chinese sports federations) have high expectations for us to create the best products to allow their athletes in each sport to perform and compete for medals," said Mark Parker, Nike's executive chief officer.
"They challenged us to create the best, and that allows us to really rise to our full potential."
Chinese athletes will compete in all 28 Olympic sports this year and hopes to overtake the US atop the medal-tally board in Beijing.
Nike president Charlie Denson said the key to designing top-quality gear is to listen carefully to the athletes.
"It always starts with the athletes, who are often the new sources of innovation," he said. "We take whatever we know and combine with what we don't know. It's always fun to do."
Athletes consulted
Designers began interviewing hundreds of Chinese athletes and coaches in January 2006 to gather ideas for their products. Nike said these talks led to the creation of many innovative products.
In weightlifting, for example, designers removed the wooden heel traditionally used in shoes since the 1960s and replaced it with a contoured heel wedge, a lightweight alternative expected to better support the foot and bear as much weight as a man or woman can lift.