Tourists on day tours of Beijing will no longer be forced to shop at more than one location, or receive "medical advice" that convinces them they are ill and in need of a "magical potion".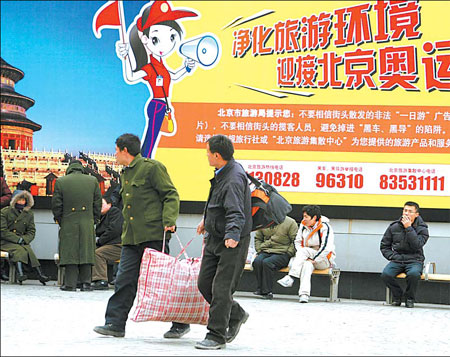 People walk past a billboard that reads: "Clean up the tourism industry for the Olympics". Beijing tourism administration said it has increased fines for those found guilty of organizing unauthorized day tours. [File Photo]
If tourists feel they are being duped, they can call 6513 0828 for help from local law enforcement officers. The officers will arrive at the scene within 30 minutes.
The Beijing tourism administration (BTA) yesterday vowed to step up action against unauthorized travel agencies to ensure there will be no complaints from tourists during the Olympic Games.
The agencies will be fined twice the sum of their illegal income.
"After an illegal incident is confirmed, law enforcement teams will provide vehicles and guides to help tourists continue their disrupted tour," Liu Yang, an official with the BTA, said yesterday.
Some agencies that run day trips lure tourists with cheap prices and then force them to shop at stores where they receive a commission.
This has long been a problem for the city's tourism administration.
Insiders said it is difficult to get rid of unauthorized tour agencies because tourists are easily lured by their cheap prices. They usually charge less than 200 yuan ($29) for a day tour.
But tourists are sometimes forced to spend more time on shopping than visiting scenic spots.
What is worse, some tourists who refuse to shop have been taken to remote shopping areas and dumped.
"This is one of the major complaints," Liu said.
But officials have stepped up efforts to stop such operators.
In the past six months, law enforcement officers in Changping district, which boasts the Ming Tombs and Juyongguan Great Wall, have shut down 11 shops, drug stores and scenic spots that were reported by tourists for illegal practices, Liu said.
During the same period, more than 60 shops and companies catering to tourists in the capital have been punished or shut down for illegal practices, he said.