An estimated crowd of 1,200 university students is believed to have broken the world record for performing a synchronized cheer in Beijing on Wednesday at an event organized by fast food giant McDonald's.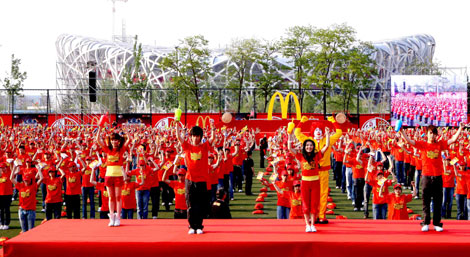 An estimated crowd of 1,200 university students perform a synchronized cheer in Beijing, April 23, 2008. [Xinhua] 
"They're still counting the numbers but it looks like they've broken it," said a representative from Ketchum, the public relations company that represents McDonald's in China.
The students took part in a cheerleading dance opposite the National Stadium in the afternoon, chanting one of the chain's most recognizable slogans mixed with national fervor for local athletes as they shouted "China wins, I'm lovin' it."
The event fell one week short of the 100-day countdown to what is being billed as the greatest Olympics ever to be staged. The opening ceremony of the 29th Summer Games will be held on August 8 at the same stadium.
The students from Beijing Sport University wore bright red baseball caps and T-shirts as they performed the five-minute-long dance.
The cheering campaign, designed to capture the imagination of young Chinese, kicked off last December. The fast food giant sought a specialized cheering squad among Chinese and expatriates for the Games this summer by comparing votes after viewers watched video clips of cheerleaders online.