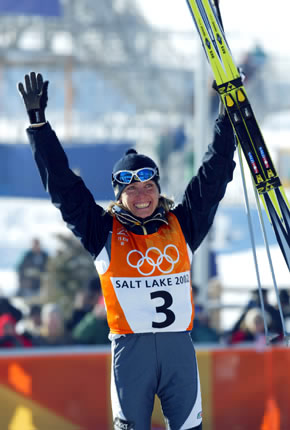 Salt Lake City, Olympic Medals Plaza, 24 February 2002: Gabriella PARUZZI from Italy (L) shows her gold medal from the women's 30km free cross country. Team-mate Stefania BELMONDO also poses with her silver medal from the event and her gold medal from the 15km event. Credit: Getty Images/John Gichigi
Born: 13 January 1969
Birthplace: Vinadio (Italy)
Nationality: Italy
Sport: Skiing
ATTENDANCE AT THE OLYMPIC GAMES
Calgary 1988
Albertville 1992
Lillehammer 1994
Nagano 1998
Salt Lake City 2002
AWARDS
Olympic medals:
Gold: 2
Silver: 3
Bronze: 5
Other results:
World Championships
Gold: 4 (93, 97, 99)
Silver: 7 (91, 93, 97, 99)
Bronze: 2 (91, 01)
Tiny But Tough On the Slopes
Only 1.55m tall and weighing 47kg, Stefania Belmondo was an unlikely heroine in the rugged sport of cross-country skiing. Half of her home village of Pontebernardo (population 160) traveled to Les Saisies to root for her in 1992. She finished fifth in the 15km, fourth in the 5km, second in the combined pursuit and third in the relay. Then she struck gold in the 30km, the final women's cross-country event of the Albertville Games. In that race, she earned an impressive victory of 21.9 seconds.
Belmondo returned to the Olympics three times, winning bronze medals in the combined pursuit and the relay in 1994 and two more medals in 1998: a silver in the 30km and another bronze in the relay. At the Salt Lake City Games in 2002, she won the gold medal in the 15km free and the silver medal in the 30km.