Pupils take part in water-saving campaign
(BOCOG)
Updated: 2007-04-23 10:55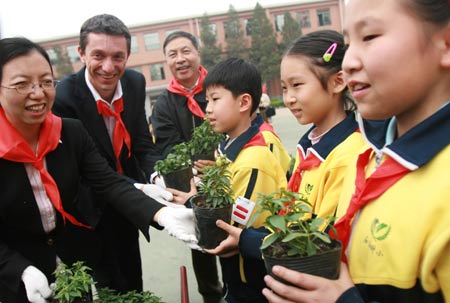 Students from over 1,400 elementary and secondary schools in Beijing are taking part in a campaign to save water in their schools and families in response to the call for "Green Olympics."

At a launching ceremony on Thursday, the Construction and Environment Department of the Beijing Organizing Committee for the Games of the XXIX Olympiad (BOCOG) and other sponsors encouraged the pupils not only to save water, but also to use the saved water and rainwater to water flowers and other plants.

Wang Yue, deputy secretary of Beijing's Youth League, hoped that each student will plant a flower, write a story on their water-saving and flower-growing experience and put forward a proposal on water-saving.

The students are encouraged to display their flowers in schools or communities on June 1, the International Children's Day, and in August, to mark the one-year countdown to the Olympic Games.

Since 2005, the "Put aside a Barrel of Water" campaign has become an annual event that draws an enthusiastic response from schools citywide. This year, it even extended to 14 schools in the co-host cities of the 2008 Games.