Liu Qi meets with AP president Tom Curley
(BOCOG)
Updated: 2006-09-27 16:22
Liu Qi, president of the Beijing Organizing Committee for the Games of the XXIX Olympiad (BOCOG) met with Associated Press president Tom Curley in Beijing on Wednesday.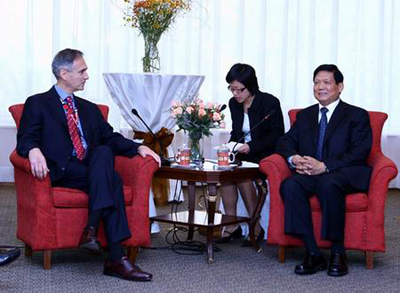 Liu Qi (R) meets with Associated Press president Tom Curley (L).[BOCOG]
In his welcome remarks, Liu said as one of the world-class news agencies, AP is much influential internationally. AP has attached great importance to Olympic reporting and BOCOG is ready to receive AP for news coverage of Beijing's Olympic preparations. BOCOG will provide quality and convenient services for its news coverage.
Updating the guest on the preparations for the 2008 Games, Liu said every respect of the preparatory work has gone smoothly in the past five years and conditions for staging a successful Olympics seem to be riper. "We will honor our commitment to closer cooperation with news media and well render world personalized and meticulous services for them in line with experiences of previous editions of the Olympic Games," he pointed out.
In his reply, Curley said the efforts being made tint he preparatory process convinced him that the 2008 Games will be a success. AP will strive to strengthen cooperation and exchange information with BOCOG, in an effort to make a good coverage of China and Beijing and help enhance understanding between China and the rest of the world.
Attended the meeting were Liu Jingmin, vice mayor of Beijing and executive vice president of BOCOG, Jiang Xiaoyu, executive vice president of BOCOG, and Kevan Gosper, chairman of International Olympic Committee Press Commission.