Supervision of Olympic venues emphasized
(BOCOG)
Updated: 2006-09-05 09:22
Beijing leading officials called for the enhancement of supervision in the construction of Olympic venues.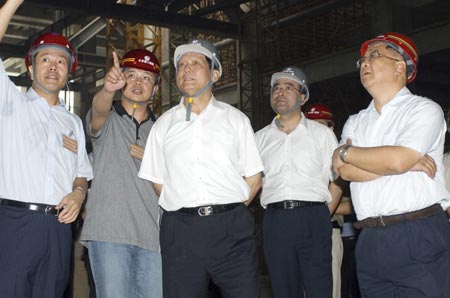 Liu Qi (3rd, Left) is briefed on construction of Olympic venues September 4,2006.[BOCOG]

Liu Qi, secretary of Beijing Municipal Committee of Communist Party of China (CPC) made a site-visit to check supervision of Olympic projects on Saturday. He said builders should increase awareness of political responsibility and ensure frugality and cleanliness.

Supervision should be started at an earlier stage and carried out in the whole process of construction to achieve transparency and cleanliness, he added, stressing the need of putting precaution first.

Liu and Beijing Mayor Wang Qishan toured the National Aquatics Center and National Convention Center, hearing a report on the progress of construction and the current status of supervision.

Officials on the sites reported that at the moment a supervision network has been set up and every project has its own responsibility system involving the project owner, constructor and supervisor.

All Olympic projects have undergone an all around check and the problems found during the process have been put under rectification. The Commission for Discipline Inspection of Beijing CPC Municipal Committee has reinforced supervision on the Beijing 2008 Olympic Project Construction Headquarters Office. The Beijing Municipal Quality and Technical Supervision Bureau and Audit Bureau have also taken relevant measures.

Liu Qi said people involved in the Olympic projects need to pay attention not only to the speed and quality of the projects, but also their management and supervision.