Dozens of ultra-right wing activists besieged and attacked a peaceful parade in Tokyo on Sunday by some overseas Chinese in protest against a major Japanese hotel chain which recently sparked fury over history-distorting books placed in its guest rooms.
About 100 overseas Chinese gathered in Shinjuku Central Park in downtown Tokyo for the protest.
The demonstrators marched silently and peacefully toward an APA hotel about 2 kilometers away at 2:45 pm. The parade lasted about one hour.
The hotel chain has sparked public outrage recently, especially among people in China and South Korea, for placing books written by its CEO in its guest rooms denying the Nanjing Massacre and the forced recruitment of "comfort women" ever happened.
During the protest, dozens of ultra-right wing activists besieged and followed the marchers, shouting through loudspeakers and even trying to wrest banners away from the demonstrators, only to be stopped by the hundreds of local police keeping the parade in order.
There were also some 100 activists gathering in front of the APA hotel, holding Japanese flags and other flags in protest against the parade.
"The parade is aimed at upholding friendship between the Chinese and Japanese people," said a female organizer of the parade.
The organizer of the 8th Asian Winter Games has requested the APA hotel in Sapporo, designated as one of the official reception hotels for athletes, to remove the right-wing books placed in the guest rooms. The organizing committee is making new accomodation arrangement for Chinese athletes who were previously scheduled to stay in an APA hotel, according to an official of the organizer of AWG.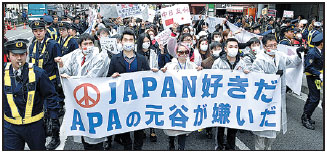 Chinese residents in Japan protest against the Japanese hotel chain APA in Tokyo, on Sunday. The slogan on the placard reads: "We like Japan, We dislike Motoya (hotel chain's president)".Kyodo Via Reuters