China Daily, the national English-language newspaper of China, keeps you in touch with China and the World with our mobile solutions.
MULTIMEDIA MESSAGING SERVICE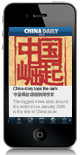 China Daily Mobile News is China's first bilingual MMS news product. It provides the latest national and world news, celebrity anecdotes,odd stories and English language tips. The service is now available to China Mobile and China Telecom subscribers.

NEWS APPS

China Daily News
A bridge connecting China and the world, China Daily news applications present
latest information and photos of China wherever .

All sections are presented as full-content digital replicas in their original layout.

China Daily Apps on Mobile Market
The English audio products are provided with English/Chinese texts

China Online Forum, launched in 2003, is China's largest English-language interactive platform where global users can discuss what is happening in China and get to know the real China.
Copyright 1995 - 2010 . All rights reserved. The content (including but not limited to text, photo, multimedia information, etc) published in this site belongs to China Daily Information Co (CDIC). Without written authorization from CDIC, such content shall not be republished or used in any form. Note: Browsers with 1024*768 or higher resolution are suggested for this site.
License for publishing multimedia online 0108263  Registration Number: 20100000002731