The 2013 International Tea Convention & 13th China Pu'er Tea Festival will be held from May 25-27 in Pu'er city, Yunnan province. The festival has been held every two years since 2005.
Officials from the Food and Agriculture Organization of the United Nations, the International Tea Committee and the European Tea Committee will attend the convention. Tea industry experts from more than 30 countries and regions, including the United States, Canada, Russia, Germany, Great Britain, Japan, South Korea, Morocco, Egypt, India, Sri Lanka, Taiwan and Hong Kong, will also be present at the meeting.
The convention will also invite representatives of foreign tea enterprises, such as Lipton and Twinings. The convention will hold activities such as forums, exhibitions, awards ceremonies, industry visits and ethnic tea culture shows.
There will also be an International Tea Industry CEO Forum and seminars on tea industry development, tea safety, management systems, technical barriers and tea trade, new tea varieties and technologies, brand building, marketing and construction of ecological tea. The event will also serve as a platform for exchange and cooperation between different tea industries.
Some well-known tea business executives in the United States, the United Kingdom, Russia, India and other countries will deliver speeches on enterprise development.
The meeting will recognize various tea companies and provide assistance through dealer recommendations and promotion to tea-consuming countries. Tea experts, entrepreneurs and scholars from home and abroad will gather in Pu'er, Yunnan province.
The convention aims to show the unique characteristics of tea-producing areas in Southwest China, highlight the promotion of national brands, and invite the participation of enterprises in tea-consuming countries to promote tea in the international market.
In recent years, tea has become a pillar industry in Zhejiang, Anhui, Fujian, Yunnan and other tea-producing provinces. In 2011, China's tea production totaled 1.62 million tons, ranking first in the world. Tea agricultural output value was 72.9 billion yuan ($11.8 billion), an increase of 20 percent year-on-year. Tea export was 322,600 tons, an increase of 6.66 percent year-on-year. Exports brought in a total of $965 million, an increase of 23.08 percent year-on-year.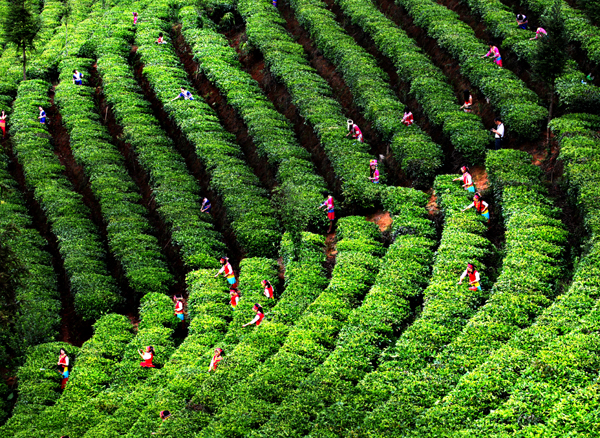 Locals pick tea in Pu'er, in northwest Yunnan province.