The 2016 "Silk Road" Science Festival will take place in Karamay city in the Xinjiang Uygur autonomous region on July 22-26, according to a news briefing held in Urumqi on July 12, Karamay Daily reported.
The more than 2,600 participants will include experts, scholars, professors and delegates from Belt and Road Initiative regions and countries such as Kazakhstan and Kyrgyzstan, 15 Chinese provinces and cities and 14 of Xinjiang's prefecture-level cities.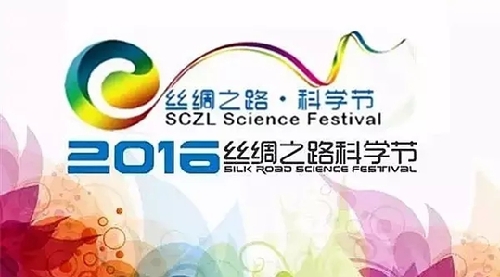 The poster for the 2016 "Silk Road" Science Festival. [Photo provided to chinadaily.com.cn]
The science festival will consist of an opening ceremony, science competitions and publicity activities, themed forums and exhibitions.
During the festival, four contests will be held including the final of the 4th National Scientific Performance competition, the 2016 China Aeromodelling Design Challenge and the artificial intelligence design competition.
Science publicity activities will consist of a salon showing the science popularizing micro films "talk about science face to face" and science college publicity.
The themed forums will be focused on cyberspace security and science cooperation in developing the Silk Road Economic Belt. The 2016 Silk Road innovation and entrepreneurship achievements exhibition will also be launched.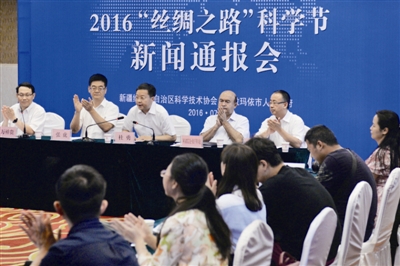 Xinjiang officials answer reporters' questions at the news briefing of the 2016 "Silk Road" Science Festival held in Urumqi. [Photo/ kelamayi.com.cn]
Karamay has held two Xinjiang's teenagers' science festivals successively and displayed Xinjiang's science achievement to the outside world, said Du Yong, the director of the executive committee of the festival.
Du added that the festival is expected to enhance science and cultural communication among the countries in the Silk Road Economic Belt and drive Xinjiang's innovation and entrepreneurship.
Zhang Hu, chairman of the Karamay Science Association, was also on hand to meet the press.
Edited by Peter Nordlinger