Top photographers honored in Pingyao
Updated: 2018-09-25
( chinadaily.com.cn)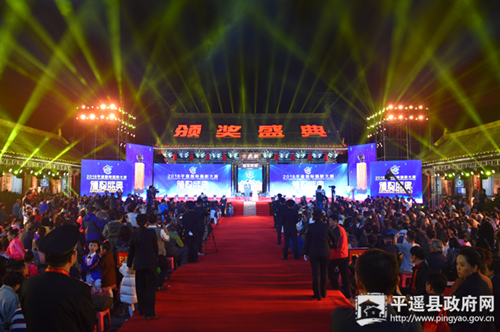 The awards ceremony for the 18th Pingyao International Photography Festival takes place in Pingyao county, Sept 21. [Photo/pingyao.gov.cn]
An awards ceremony for the 18th Pingyao International Photography Festival was held in Pingyao county on Sept 21.
The ceremony honored the work of 72 photographers from around the world, as well as a team of curators. Prizes were awarded for in 12 different categories.
The top prize of the photography festival was won by Chinese photographer Wu Qiang for Zhong Yuan (Central Plain of China), a series of photographs depicting life in the Central Plain of China over the past 35 years.
Peng Zhenge (pseudonym: An Ge) won the China Photography Lifetime Achievement Award for his work recording Chinese life over the past four decades. He also presented some of his work to the organizing committee of the Pingyao International Photography Festival.
Wantuo, a type of noodle from the Qing Dynasty (1644-1911), is one of Pingyao's local snacks with a long history.