Qixian county
Updated: 2017-06-07
( chinadaily.com.cn)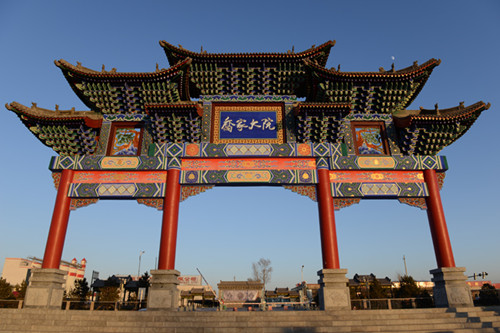 The monumental archway of the Qiao Family Compound, a famous family of Shanxi merchants, in Qixian county[Photo/pingyao.gov.cn]
Qixian county, in central Shanxi province, has a population of 272,000 and covers an area of 854 square meters.
The county is holds nationwide fame as a historical site with a history dating back some 2,200 years. More than 200 important historic figures have called Qixian home, including the poets Wang Wei and Wen Tingyun of the Tang Dynasty (618-907), Luo Guanzhong, a novelist in the Ming Dynasty (1368-1644) and many famous Shanxi merchants such as the Qiao family and the Qu family.
Glassware is a feature industry of Qixian county, with some 40 glassware companies settled there. Glassware products of nearly 6,000 varieties have been exported to more than 80 countries and regions. Pears are another local specialty. The county has currently planted an areas of 10,200 hectares worth of pear trees.
Qianxian county has several intangible cultural heritages, including Qitai yangko, a kind of Chinese folk opera popular in central Shanxi, and paper cutting. In addition, it is a national ecological demonstration area, home to Changyuanhe National Wetland Park and the Sixiannao Provincial Nature Reserve.
Wantuo, a type of noodle from the Qing Dynasty (1644-1911), is one of Pingyao's local snacks with a long history.