Yuci district
Updated: 2017-06-05
( chinadaily.com.cn)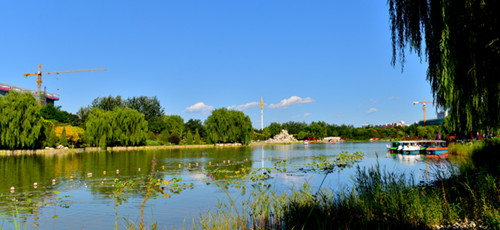 Jinshang Park in Yuci district, a park themed around the culture of Shanxi merchants [Photo/pingyao.gov.cn]
Yuci district in Jinzhong is located in central Shanxi province, 25 kilometers from Taiyuan, the provincial capital. The district has a population of 655,500 and covers an area of 1,328 square kilometers.
Many city highways, such as the Datong-Yuncheng and Taiyuan-Changzhi expressways, traverse the district which is near Taiyuan Wusu Airport and several high-speed rail stations, making the district a transport hub for Shanxi province.
In 2005, the Ministry of Environmental Protection designated Yuci district a national ecological demonstration area. The district was later lauded as "the hometown of Shanxi merchants' culture" and a "base for research on Shanxi merchants' culture" by the Chinese Folk Literature and Art Association in 2007.
There are 10 universities and colleges in Yuci district which are core parts of Shanxi Technological Innovation Town.
Yuci district is one of the top 10 counties in Shanxi for its comprehensive competitiveness, being a member region of the Jinzhong 108 Corridor Regional Integration Development Demonstration Area, and as a powerhouse for Jinzhong's development. During 2016 the district generated 21.63 billion yuan ($3.15 billion) in GDP with per capita disposable income of local residents reaching 30,815 yuan.
Wantuo, a type of noodle from the Qing Dynasty (1644-1911), is one of Pingyao's local snacks with a long history.