Summit opens to boost ancient Tea Road
Updated: 2017-05-18
( chinadaily.com.cn)
Pingyao, a 2,700-year-old county under the administration of Jinzhong in Shanxi province, has been witnessing international efforts to revive the ancient Tea Road, a trade route similar to the Silk Road, through the fifth China-Mongolia-Russia Mayors' Summit on the "Tea Road" which opened on May 16.
More than 10 themed activities, including seminars, roundtable meetings, and culture and tourism promotion events, are scheduled for the summit so as to enhance cultural and economic ties among Chinese, Mongolian and Russian cities along the 13,000-kilometer land trading route which was pioneered by Shanxi merchants, especially those from Jinzhong.
"The ancient tea road which first appeared in the 17th century is another vital international trade route along with the Silk Road, connecting China and western countries through trade and cultural communication," said Wang Cheng, mayor of Jinzhong, at the opening ceremony.
"Shanxi merchants active from the Song Dynasty (960-1279) to the Qing dynasty (1644-1911) have played a vital role in pioneering and extending the route," he added.
Alena Gubanova, mayor of Astrakhan city in Russia, expressed her view that the "Tea Road" summit within the framework of China's Belt and Road Initiative will bring many development opportunities to related cities.
Government officials from more than 80 cities in China, Mongolia and Russia along the Tea Road, representatives of some 10 domestic and international organizations, experts and businesspeople will discuss boosting tourism and trade along the route and furthering cooperation among cities.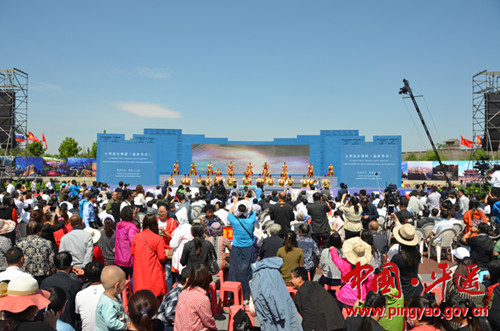 The opening ceremony of the fifth China-Mongolia-Russia Mayors' Summit on the "Tea Road" takes place at Yingxunmen Square in Pingyao county, Shanxi province, May 16. [Photo/pingyao.gov.cn]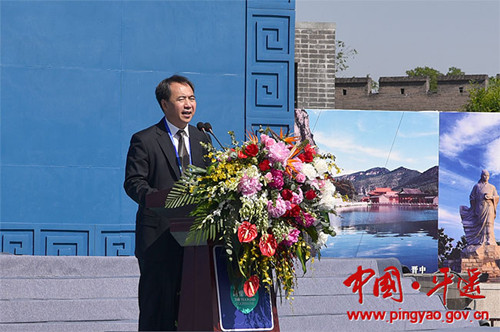 Wang Cheng, mayor of Jinzhong which administers Pingyao county, addresses the opening ceremony on May 16 in Pingyao county. [Photo/pingyao.gov.cn]
Wantuo, a type of noodle from the Qing Dynasty (1644-1911), is one of Pingyao's local snacks with a long history.