Shanxi pushes for Tea Road world heritage status
Updated: 2016-10-14
( chinadaily.com.cn)
Authorities in Shanxi hope the historic Tea Road that once ran through the province can gain UNESCO World Cultural Status, joining the likes of the Great Wall in Beijing and the terracotta warriors in neighboring Shaanxi.
Those in charge of the application began selecting historical sites across the province on Oct 9 to bolster the Tea Road's application.
A delegation of experts and officials will investigate eight local cities over six days, such as Datong, Taiyuan and Jinzhong, where 24 historical places are recommended after evaluation.
The ten-thousand-mile tea road spans from Fujian province in South China to Russia and first sprang up at the beginning of the 18th century when Europeans developed a taste for Chinese tea. Wuyi Mountains in Fujian, the origin of the trade route, are famous for its tea planting.
Shanxi merchants, known as Jinshang in Chinese, would transport favorites of their Eurasian customers more than 13,000 kilometers on horseback across China and Mongolia to reach Russia's capital and beyond.
The merchants formed one of the most important business groups in ancient China, contributing a lot to the trade and culture exchange among China, Mongolia and Russia as well as extending the great tea route. Thus, the team made the Shanxi section an economic and culture hub of the whole route.
In 2012, eight provinces along the Tea Road, including Shanxi and Hebei, united to apply for the UNESCO status with Wuhan in Hubei province to be chosen as the host city for related events. The league plans to complete all preparations before 2017. Shanxi has been sifting through historical spots for the application since 2015.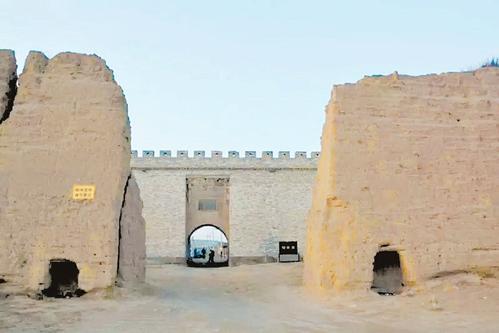 An investigation is conducted at Deshengbu in Datong, a village with ancient ramparts which was once a stop on the ancient Tea Road, on Oct 9. Shanxi province has selected historical sites in eight local cities to prepare to apply the Tea Road to UNESCO's World Cultural Heritage status. [Photo/sxrb.com]
Wantuo, a type of noodle from the Qing Dynasty (1644-1911), is one of Pingyao's local snacks with a long history.