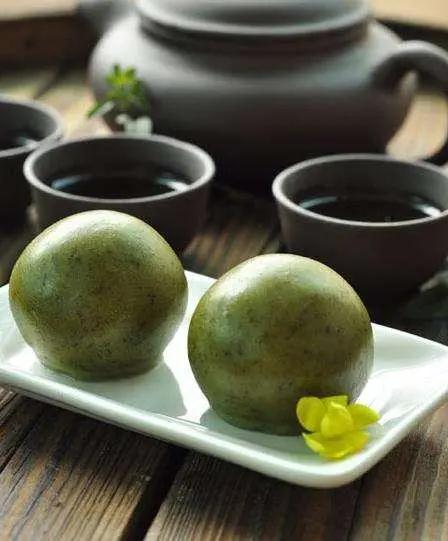 A bite of qingtuan and a sip of Mingqian tea will satisfy one's appetite for springtime flavors. [Photo/WeChat account: sheshanlvyou]
For people seeking springtime flavors, having a bite of qingtuan and a sip of Mingqian tea at hotels in Shanghai Sheshan National Tourist Resort will satisfy their appetite.
Qingtuan, or sweet green glutinous rice ball, is a popular spring snack in the Yangtze River Delta. It is traditionally stuffed with a red bean filling or dried meat floss. The green glutinous skin is dyed with wormwood juice.
Mingqian (literally "pre-Qingming") tea uses tea leaves picked ahead of Qingming Festival, which falls on April 4 this year. It is made of the very first tea sprouts in the spring and considered to be of high quality.
The two are popular offerings at restaurants and hotels around Qingming Festival in China, with their fresh flavors complementing each other well.