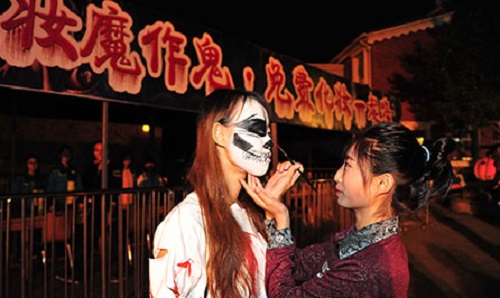 Staff members at Shanghai Happy Valley offer face painting to visitors. [Photo/ sh.happyvalley.cn]
Shanghai Happy Valley is throwing a bone-tingling series of Halloween activities between Oct 13 and Nov 12.
Visitors to the tourist resort in Shanghai's Songjiang district will be thrilled by haunted houses, Halloween-themed cosplay shows, spooky virtual reality experiences, and more during this year's holiday season.
Thrill-seekers will be able to take their pick from 11 haunted houses each with a different theme. The houses of horror will use a mix of virtual reality adventures, large mazes, shocks and spooky music to terrify those brave enough to enter.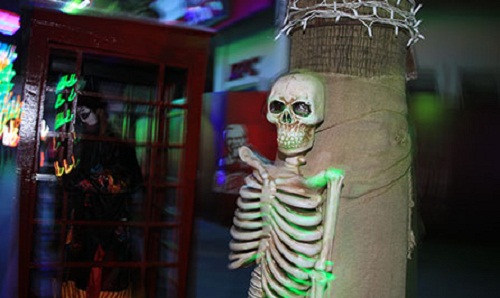 The horrific haunted house in Happy Valley. [Photo/ sh.happyvalley.cn]
Happy Valley has also been holding "Voice of Ghosts"-style shows since Oct 13, in which ghosts sing their favorite songs karaoke-style for visitors.
You can watch heavy metal ghosts thrash their guitars, and even hip-hop ghosts break-dancing onstage.
If you stay till after dark, you may also witness the park's ghost parade, in which 444 ghosts prowl the venue to surprise visitors and invite them to join in with their fiendish activities.
Visitors can also take part in Happy Valley's free masquerade, cosplay shows and even hunt virtual ghosts with the park's Pokemon Go-style augmented reality game.
The park's high-tech multimedia water show mixing water, fountains and 3-D images, as well as over twenty amusement rides including roller coasters and merry-go-rounds also are also worth trying.
Tickets for the night show cost 120 yuan ($17.9) per person. Visitors can enter the park after 17:30 to enjoy the quirky and weird world.
To find more and book tickets, please visit: http://sh.happyvalley.cn/activity/wanshengjie/index.shtml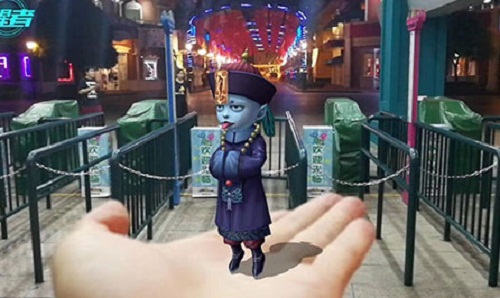 Visitors to Happy Valley can hunt virtual ghosts with the park's Pokemon Go-style augmented reality game. [Photo/ sh.happyvalley.cn]