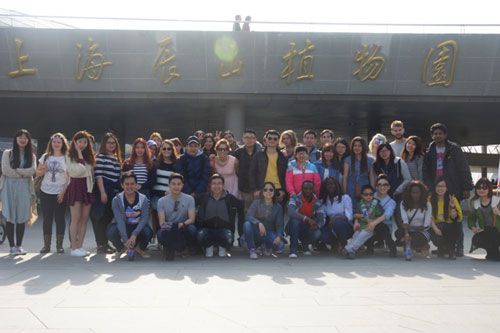 Students from the College of International Cultural Exchange of Shanghai Ocean University visit the Chen Shan Botanic Garden. [Photo provided to chinadaily.com.cn]
Foreign students from the Shanghai Ocean University enjoyed a spring outing at Chenshan Botanic Garden on April 11.
The event was organized by the university's College of International Cultural Exchange, aiming to enrich foreign students' extracurricular life and help them experience local customs.
Shanghai Chenshan Botanical Garden, located in Songjiang district, is the biggest botanic garden in the city with a comprehensive collection of plants worldwide.
During the four hours' tour, students chatted, took photos and exchanged their lives in campus, enhancing their understanding and friendship between each other.
The College of International Cultural Exchange has held various events to help foreign students better engage in local life. Earlier, foreign students in the college spoke Chinese enthusiastically in a competition of reciting Chinese, which greatly improve their confidence and skills of speaking the language.