Phil Ryan of Australia designed 27-hole championship golf course. He adopted unique greens and 300-mm silver sand pits for the fairways. He installed instant drainage system.
During autumn, the golf course gets seeded so golfers can play during the cold winter season.
The golf course holds rolling fairways and lakes set against a backdrop the wooded hills of the Sheshan National Tourism Area.
It is open for all seasons offering a fleet of golf carts..
Golfers can enjoy lunch and dinner at the country club, which caters to a wide variety of tastes that include Chinese banquets and buffets, International style BBQ and buffets, Western cuisines served in private dining rooms.
Larger parties can be held in the Lake and Mountain View rooms or the Country Grill.
A beautiful Lakeside Garden with scenic views stands across the lake and golf course.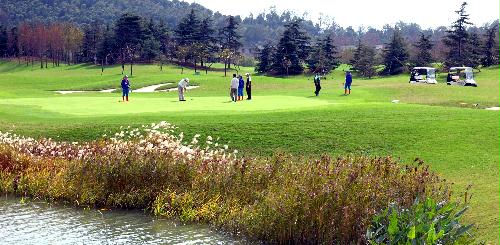 Tianma Country Club