Yantai's tea industry brings prosperity to local farmers
Updated : 2022-05-05
(chinadaily.com.cn)
The tea industry in Haiyang, a county-level city in the coastal city of Yantai in Shandong province has grown rapidly in recent years, which has in turn helped the city adjust its agricultural structure, and increase local farmers' incomes.
Haiyang boasts unique soil and suitable climatic conditions, which are suitable for harvesting tea. Currently, the city has 24,000 mu (1,600 hectares) of tea production areas, accounting for nearly 70 percent of Yantai's total. The local government has released a slew of supportive measures to boost the development of tea industry, and "Haiyang Green Tea" was registered as a certification trademark of geographical indication, which has become a famous brand in northern areas in China.
Yantai has a long history of planting tea, which can be traced back to the Southern Song Dynasty (1127-1279). Official data showed that as of 2021, the total tea production area in Yantai had expanded to 35,000 mu, and Yantai Tea has also been included in the national agricultural product geographical indication protection list, which has become a new calling card for Yantai, along with apples, cherries and wine.
Efforts have also been made to promote the inheritance, protection and innovation in tea production. Buheshan Tea is a leading tea enterprise in Haiyang, and was recognized as a provincially famous agricultural brand. The company also set up a tea planting cooperative in 2012, and it now has more than 200 mu of original ecological tea gardens, which has boosted the high-quality development of Yantai's tea industry.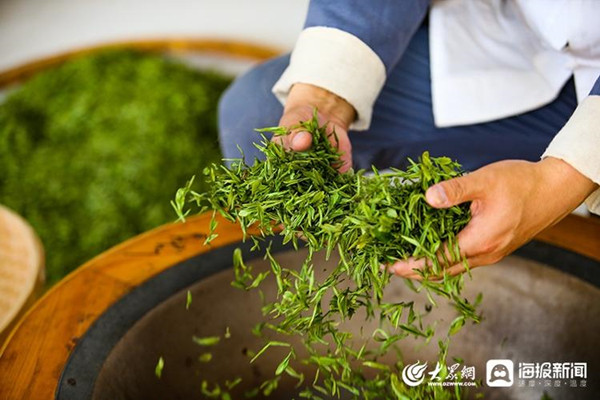 "Haiyang Green Tea" is registered as a certification trademark of geographical indication, which has become a famous brand in northern areas in China. [Photo/Dazhong News]