Cherries bring sweet success to Yantai town
Updated : 2022-04-13
(chinadaily.com.cn)
Cherry planting has helped local villagers in Gaoling town, Mouping district in the coastal city of Yantai, East China's Shandong province increase their incomes and find a way to advance rural vitalization.
Yantai cherries have been called the "king of fruit" due to their high nutritional value. Rich in vitamins and amino acids, the fruit plays a positive role in treating anemia, osteoporosis, as well as calcium and iron deficiencies.
Gaoling town established special funds and built a batch of greenhouses producing cherries in its poor villages, and the cherries have become a main source of income for local villagers. Cherry industry is now playing an important role in boosting regional industrial revitalization in Yantai.
Industrial development has played a key role in promoting rural vitalization, and in recent years, Gaoling has released an array of supportive measures to accelerate its local industries such as cherry seedlings, cherries, and local distinctive fruits and vegetables.
"Villagers had relied on temporary jobs in the past years, but thanks to the government's efforts, we now enjoy a stable income based on cherry planting," said Liu Qijun, a local farmer in the town.
Gaoling town boasts abundant cultivated land resources, and in recent years, the town has paid great attention to the development of featured agriculture. At the same time, Gaoling has become a model for the effective transformation of a poverty-stricken and desolate town into a thriving ecotourism destination, thanks to its rich culture and tourism resources.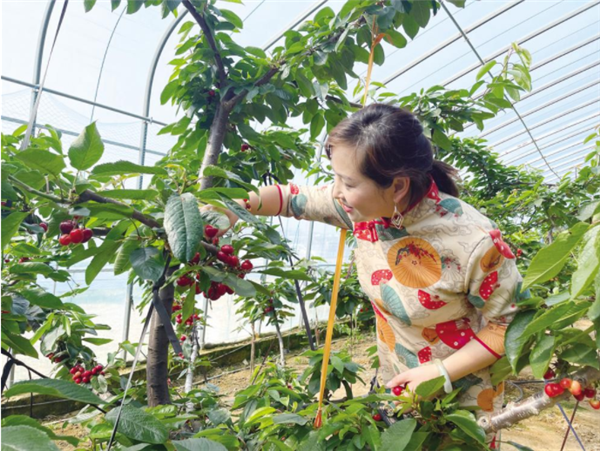 A woman picks cherries in a greenhouse in Gaoling town, Mouping district in the coastal city of Yantai, East China's Shandong province. [Photo/Shandong News]