Raising glasses
Updated : 2021-11-30
By ALEXIS HOOI and ZHAO RUIXUE (China Daily Global)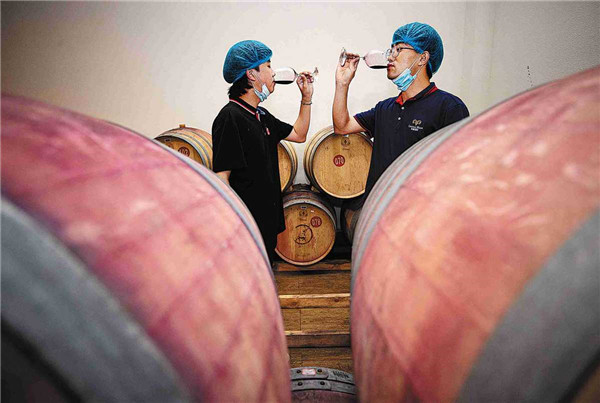 A staff member (right) and a student from the Food and Wine College of Ningxia University taste wine at a chateau located in the eastern foothills of Helan Mountains in the Ningxia Hui autonomous region in July. Taking advantage of the job opportunities in the area, the college has provided skilled viniculture graduates for wineries in recent years. [Photo/Xinhua]
Vineyards in China's winemaking hub set sights on latest global opportunities
On a hilly expanse of farmland near the coast of East China's Shandong province, Wan Qiuhua has earned enough from her crops to buy her only son an apartment and car, giving him the opportunity to get married and live a comfortable life.
Most farmers in the area believe the land at Zhuqiao township, Yantai, is not fertile enough to support common crops. But Wan has been growing one crop perfectly suited to the local conditions-grapes.
"This year we made 100,000 yuan ($15,660) from planting wine grapes," said Wan, 53, adding that the income is much higher than that from the corn, wheat and peanuts they farmed a decade ago. "We could hardly make ends meet from the hilly terrain before, but our life is getting better now," she said.
Wan and her husband have been working a 10-hectare plot since 2013. They are one of 30 farming families who have entered into a land management arrangement with Changyu Wine Group, China's leading wine producer, to grow grapes.
"The hills may be unsuitable for most crops, but they're good for wine grapes," said Yang Yachao, an experienced Changyu winemaker who graduated from the College of Oenology at Northwest Agriculture and Forestry University.
In 2012, Yang helped lead the development of Zhuqiao's major grape cultivation base, which provides jobs for 600 rural residents who earn 10,000 yuan a year each from the work.
Yang also conducts regular training sessions for the farmers with his colleagues. "We teach them standard cultivation techniques and train them in the details of vine growth throughout its various stages to guarantee the highest grape quality," he said.
Yantai is the birthplace and hub of modern Chinese winemaking. Changyu began in 1892, when overseas Chinese industrialist Zhang Bishi invested in the latest viniculture technology to tap the area's climatic and geographical advantages. The area has annual sunshine of more than 2,600 hours, yearly rainfall of 525 millimeters, a mean annual temperature of 13 C and soil with high gravel content. The ocean breezes that blow over the hills also aid the production of coveted coastal wines.
The city has grown to have a winemaking area of 19,000 hectares, which involves at least 203 major companies. There are 12 leading winemakers, and last year they produced a combined 71,300 kiloliters of wine-nearly one-fifth of the nation's wine production. The leading winemakers reaped about 1.95 billion yuan last year, and 10 business groups in the wine-related sector have annual sales revenue exceeding 100 million yuan each, according to Yantai's statistics bureau.
The city also has more than 500 wine-related businesses, ranging from agricultural machinery companies to bottle-makers and cultural tourism operators. Its wines have won more than 500 industry awards worldwide, and Yantai wines last year had a calculated brand value of 85.2 billion yuan, the bureau said.