Yangma Island development project
Updated : 2021-08-30
(chinadaily.com.cn)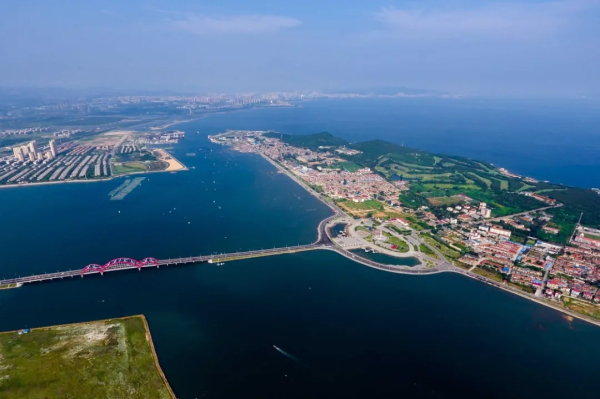 A view of Yangma Island [Photo/WeChat account: yantaifabu]
Project: Yangma Island development project
Investment: 26 billion yuan ($4.02 billion)
Industry: Cultural tourism
Address: Muping district, Yantai, Shandong province
Introduction:
Located in the northeast of Shandong Peninsula, Yangma Island Tourism Resort is situated at the intersection of Dalian, Qingdao, Yantai, and Weihai. Thanks to its favorable location, the resort enjoys convenient sea, land, and air transportation. The climate on the island is pleasant with an annual average temperature of 11.8 degrees Celsius. Described as the "Oriental Hawaii", it is a provincial-level tourist resort in Shandong and a 4A-rated national tourist resort.
Construction scale:
The project's total construction area is 11,413 square meters. It aims to develop the region into a high-end leisure and business area integrating golf, equestrian, yacht, as well as seaside entertainment facilities with cultural experiences and a waterfront commercial complex.
Work like the resettlement of local villagers, infrastructure construction, and supporting facilities construction will be done based on cultural protection and promotion, as well as environmental protection and low carbon principles. Progress:
Some supporting facilities have been built, such as a racecourse, a cross-sea bridge, a square, a countryside club, a hot springs resort, and a provincial-level reef park,. Infrastructure projects, such as a transfer center, seaside resort renovations, and boardwalks, are under construction.
In the future, a central fishing port economic zone, a wetland park, and a sea themed park will be constructed. More work will be done, such as the upgrading of the reef park, the transformation of the ancient village project, as well as in the construction of roads and supporting facilities.
Economic benefit:
After completion, the project will be able to serve business conferences, conventions and exhibitions, as well as vacations. It is expected to receive 5 million visitors a year, generating annual revenue of 300 million yuan and annual profits of 60 million yuan.
Approaches to cooperation: Joint venture, cooperation, sole proprietorship.
Contact: Li Xiaojing
Tel: +86-139-5456-2003