Yantai tourism thrives during Dragon Boat Festival holiday
Updated : 2021-06-15
(chinadaily.com.cn)
The coastal city of Yantai, East China's Shandong province saw its tourism industry booming during the Dragon Boat Festival holiday from June 12 to 14. Twelve key scenic spots in the city received 440,300 tourists, generating operating revenue of 39.29 million yuan ($6.14 million).
Activities featuring traditional folk culture and celebrating the 100th anniversary of the founding of the Communist Party of China attracted many tourists during the holiday.
An intangible cultural heritage exhibition was held, displaying nearly 10 intangible cultural heritage items, such as Yantai dough sculptures, paper-cutting, and woolen embroidery.
The city's public cultural museums hosted a series of reading activities focusing on the traditional customs of the Dragon Boat Festival and ancient poems to help local residents learn more about traditional Chinese culture and to stimulate children's patriotism.
In addition, more than 20 scenic areas, such as Penglai Pavilion Scenic Area, Taishan Scenic Area, and Nanshan Scenic Area, launched folk custom activities featuring hanfu shows and dragon boat contests to celebrate the Dragon Boat Festival. Changdao Island and Kongdong Island launched discounted tickets for visitors.
The Dragon Boat Festival, or Duanwu Festival, which falls on the fifth day of the fifth lunar month, originated during the Warring States period (475-221 BC) and has a history of more than 2,000 years.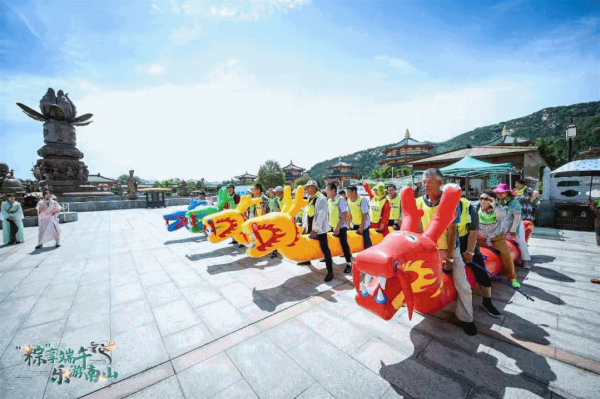 A series of cultural activities is held in Yantai during the Dragon Boat Festival holiday from June 12 to 14. [Photo/WeChat account: ytwlgw]