Places to pick cherries in Yantai
Updated : 2021-05-25
(chinadaily.com.cn)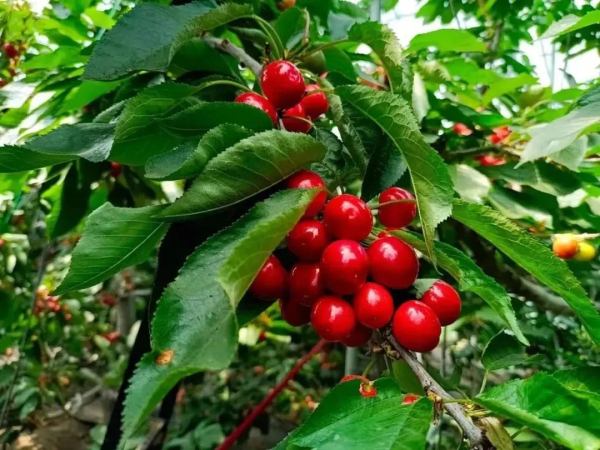 Cherries ripen in Yantai. [Photo/WeChat account: ytwlgw]
Cherries in Yantai, East China's Shandong province are currently ripe and ready for picking.
Yantai cherries have been called the "king of fruit" due to their high nutritional value. Rich in vitamins and amino acids, the fruit plays a positive role in treating anemia, osteoporosis, as well as calcium and iron deficiencies.
Here are some recommended places to pick cherries in the early summer.
Visitors show off their cherries after picking them at the Lanwan Organic Cherry Picking Park in Fushan district, Yantai. [Photo/WeChat account: ytwlgw]
1. Lanwan Organtic Cherry Picking Park
Time: From now to May 30
Ticket price: 168 yuan ($26.27) per person
Location: Louzikou village, Zhanggezhuang town, Fushan district, Yantai
Tel: +86-157-6270-1777
2. Dongshuikuang Cherry Picking Park
Time: From now to May 30
Ticket price: 168 yuan per person
Location: Dongshuikuang village, Zhanggezhuang town, Fushan district, Yantai
Tel: +86-136-7865-7333
3. Tongxin fruit and vegetable professional cooperative
Time: From now to May 25
Ticket price: 100 yuan per person
Location: Xiaojiakuang village, Gaotong town, Fushan district, Yantai
Tel: +86-185-5403-3881
4. Nanzhuang Picking Park
Time: In May Ticket price: 100 yuan per person
Location: Nanzhuang village, Menlou town, Fushan district, Yantai
Tel: +86-136-8545-3706