New intelligent vegetable market opens in Yantai
Updated : 2021-04-02
(chinadaily.com.cn)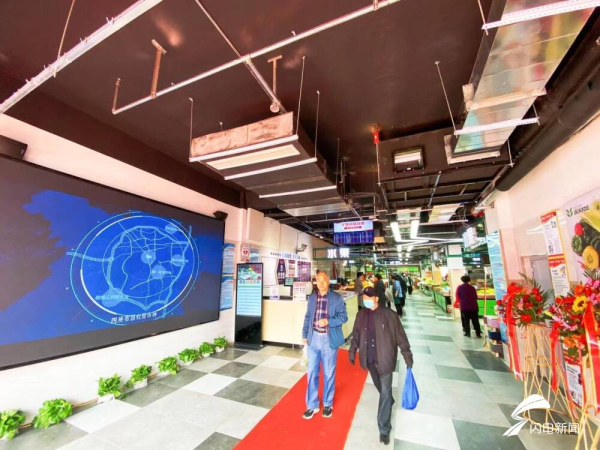 Xingezhuang Intelligent Vegetable Market in Laiyang, a county-level city of Yantai in East China's Shandong province [Photo/iqilu.com]
The Xingezhuang Intelligent Vegetable Market opened to the public on March 28 in Laiyang, a county-level city of Yantai in East China's Shandong province.
It is designed to implement intelligent management of the vegetable market by adopting high-end technologies such as the internet of things, cloud computing, 5G and big data.
The market has 145 booths for vendors and had a total investment of 5.2 million yuan ($792,500). An intelligent temperature measuring system is installed at the entrance of the market, while LED smart screens, electronic scales and traceability inquiry machines are located inside.
Customers can inquire about merchant licenses, product prices, food quality and tracking information via the multimedia platforms at the market.
"The shopping environment here is really very good and the equipment here is much more advanced," said Zhang Xinqiang, a local resident. "The aquatic products, meat, fruit and vegetable areas are well stocked, and the price is also very cheap."
Since last year, Laiyang city began upgrading its vegetable markets to cope with the impact of the COVID-19 pandemic. Currently, the city's No 1 Intelligent Vegetable Market and the Xingezhuang Intelligent Vegetable Market have completed upgrades and opened to the public. Two more markets are presently under construction.
After completion, the four smart markets will provide 746 booths and the city's overall market environment will be upgraded to meet the daily needs of local urban residents