Projects worth 13.1b yuan signed at Yantai free trade zone
Updated : 2021-03-30
(chinadaily.com.cn)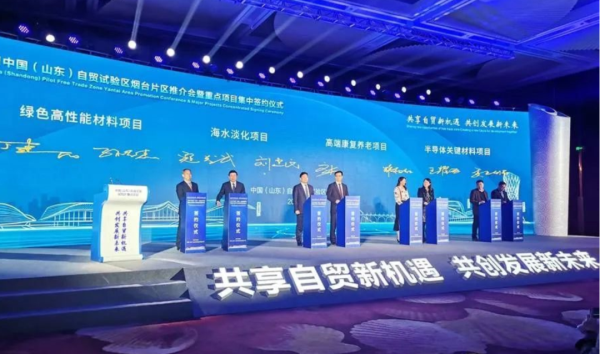 Agreements for 12 projects valued at 13.1 billion yuan are signed at the China (Shandong) Free Trade Pilot Zone Yantai Area on March 26. [Photo/dzwww.com]
Agreements for 12 projects valued at 13.1 billion yuan ($1.99 billion) were signed at the China (Shandong) Free Trade Pilot Zone Yantai Area on March 26.
The projects are recipients of investments from companies in countries and regions including Japan, Singapore, and Australia and are related to the fields of next-generation information technology, high-end equipment and healthcare.
The Yantai free trade zone has been playing an important role in promoting the city's foreign trade since its founding in 2019, according to officials.
The number of enterprises in the area increased 40 percent year-on-year in 2020 and actual use of foreign trade increased 65 percent year-on-year.
The area has taken the lead in providing cross-border approval services. It provides two-way consulting services through online and offline channels to lower the costs of overseas operations that result from administrative complexity.
Investors can now complete all the necessary procedures from their homes. A license for the Yantai FTZ area can be obtained in just five days.