Penglai moves to attract more tourists
Updated : 2021-03-11
(chinadaily.com.cn)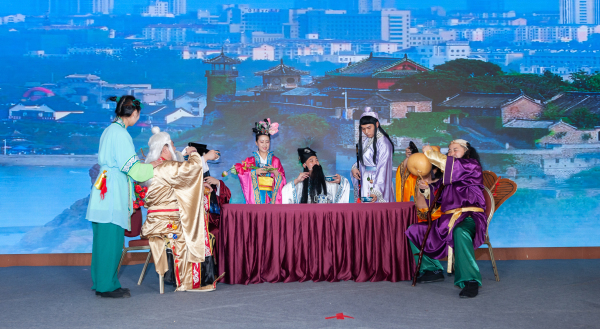 A performance featuring the legend of Eight Immortals Crossing the Sea (Baxianguohai in Chinese), which takes place in Yantai, is staged on March 10. [Photo provided to chinadaily.com.cn]
The cultural tourism resources of Penglai district in Yantai were highlighted at a promotional conference in Jinan, capital of East China's Shandong province on March 10.
According to local officials, Penglai will host a series of activities to promote the district's cultural and tourism resources. It will invite 100 online travel celebrities and experts and 1,000 tourism distributors to help promote its popular tourist routes, handicrafts and other forms of intangible cultural heritage and scenic spots.
Local authorities will also roll out preferential policies and incentive measures, including discount tickets for accommodation.
The event aims to stimulate consumption potential and help more people learn about Penglai's culture and admire its breathtaking natural scenery, said Mou Yun, director of the Penglai district publicity department.
Penglai has a reputation as a dream destination. It is a famous coastal tourism getaway in China with a long history, profound culture, excellent ecology and abundant resources.
The district currently has one national tourist resort, two 5A scenic spots, three 4A scenic spots and five protected national cultural relics. It was also included on the list of the second batch of national "all-for-one" tourism demonstration zones by the Ministry of Culture and Tourism in 2020.