Yantai tourism revenue exceeds 28m yuan for Spring Festival
Updated : 2021-02-19
(chinadaily.com.cn)
Yantai, a coastal city in East China's Shandong province saw a strong rebound in its tourism revenue during the weeklong Spring Festival holiday from Feb 11-17.
Accordingly, 20 scenic spots monitored by the local government welcomed a total of 1.02 million tourists during the holiday, generating 28.77 million yuan ($4.45 million) in tourism revenue.
Cultural tourism proved to be most popular among tourists. The two newly reopened Chaoyang and Suochengli historical cultural blocks attracted numerous visitors with its folk culture, distinctive sculptures, and intangible cultural heritage items.
A series of festive activities were held at Longkou Nanshan Scenic Area, such as praying for blessings for the New Year. Most attractions including Yantai Mountain Park and Golden Beach Park in the city were decorated for the Spring Festival celebrations attracting great attention.
Winter sports gained popularity during the holiday. Local ice skating and skiing facilities and resorts received more tourists than usual. Hot springs near the city's downtown were particularly attractive to tourists who were eager to take good care of their bodies during the holiday.
During the Spring Festival holiday, the city also saw an increasing number of "red tourism" activities, namely visits to historical sites with a revolutionary legacy, to celebrate the 100th anniversary of the founding of the Communist Party of China.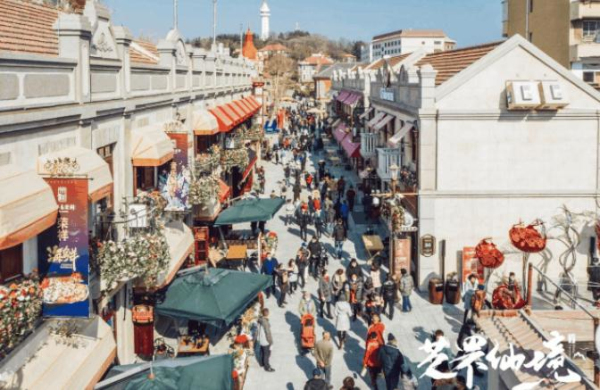 Chaoyang Street welcomes a large number of tourists during the weeklong Spring Festival holiday. [Photo/WeChat account: yantaifabu]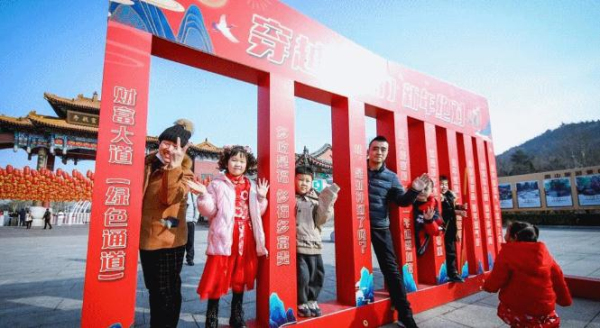 Tourists celebrate Spring Festival, also known as Chinese Lunar New Year, at Nanshan Mountain Scenic Area in Yantai, Shandong. [Photo/WeChat account: yantaifabu]