Yantai's legendary status in wine sector highlighted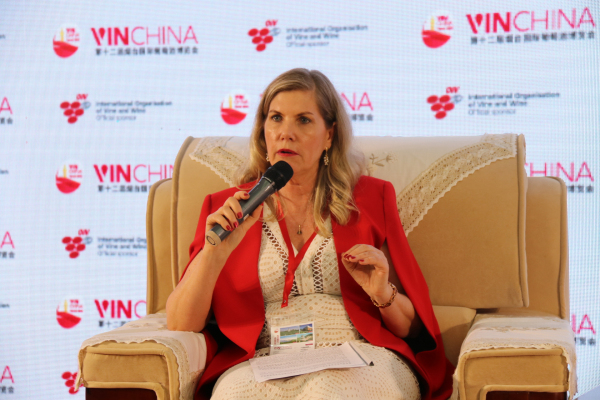 Regina Vanderlinde receives an exclusive interview at the 12th Yantai International Wine Exposition on June 29. [Photo provided to chinadaily.com.cn]
Participants at the 12th Yantai International Wine Exposition on June 28 to 30 were deeply impressed by the host city's competitive edge due to its status as the biggest wine production center in China, organizers said.
Regina Vanderlinde, president of the International Organization of Vine and Wine, was also among the top industry figures who spoke highly of Yantai-produced wines when interview on Saturday.
It was Vanderlinde's first trip to Yantai and she said the field visit further convinced her that the potential of the Chinese wine market is unlimited.
China's economy has enjoyed steady growth in recent years and people's consumption levels continue to improve, which is leading to explosive growth in the domestic wine market, Vanderlinde said.
She added that in 2018, global wine output was 29.2 billion liters and 24.3 billion liters were consumed. China consumed 1.79 billion liters of wine, ranking it fifth globally and making it one of the fastest-growing wine consumption countries.
According to statistics, China will overtake the United States to become the world's largest wine consumer in 2021.
Vanderlinde is also positive on China's wine production ability. She thinks that, compared with other countries, China is more competitive because of its special wine varieties and special production areas. In addition, Chinese winemakers respect nature and rules, bringing about personalized, stylized and diverse good wines, she added.
Over the past 32 years, the Yantai wine industry saw booming development. Enthusiasts say that the only international vine and wine city in Asia is becoming richer in culture and atmosphere, forming an important part of the local people's lives.
According to the 2018 evaluation of Chinese wine brand values, Yantai wine was the top regional brand with a combined brand value of 88.88 billion yuan ($12.95 billion).
To achieve further success, Yantai has compiled long-term plans and has put in place strong support policies for the wine industry. Industry watchers say that over the years, the Yantai production area has powered the development of China's wine sector through its competitive advantages in technology, talent, brand, and other aspects.
A local official said well-known wine companies such as Changyu, Grand Dragon and Great Wall are all based in Yantai.