World's most advanced drilling rig delivered in Yantai
Updated : 2017-02-15
(chinadaily.com.cn)
The world's most advanced ultra deepwater semi-submersible drilling rig, built by Yantai CIMC Raffles Offshore (CIMC Raffles), was officially named and delivered to the eastern coastal city of Yantai, Shandong province, on Feb 13.
The rig, named "Bluewhale I", features some of the most advanced technology in the world. As the first turnkey project in China's offshore ultra deepwater field, it will be jointly operated by CNPC Offshore Engineering Company (CPOE) to implement offshore energy exploration.
Adopting the Frigstad D90 basic design, "Bluewhale I" is equipped with a DP3 dynamic positioning system and approved by DNV (Det Norske Veritas), an international certification body and classification society with expertise in technical assessment, advisory, and risk management.
With an operational depth of up to 3,658 meters and drilling depth to 15,240 meters, "Bluewhale I" can be operated in all global water areas.
Compared to traditional drilling rigs, the rig increases work efficiency by 30 percent and saves 10 percent in fuel energy consumption.
As the ninth deepwater semi-submersible drilling rig delivered by CIMC Raffles, it enhances the company's bulk delivery capability and cultivates a qualified management and construction team.
According to CIMC Raffles, the company undertook many responsibilities from procurement, production, commissioning and final delivery construction in this project. The company will continue assisting the national deep-water strategy to provide more high-qualified and advanced equipment for offshore energy exploration.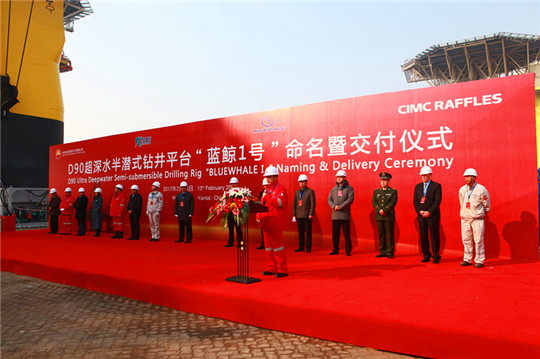 The naming and delivery ceremony of the D90 ultra deepwater semi-submersible drilling rig "Bluewhale I" is held in Yantai, Shandong province on Feb 13. [Photo/cimc.com]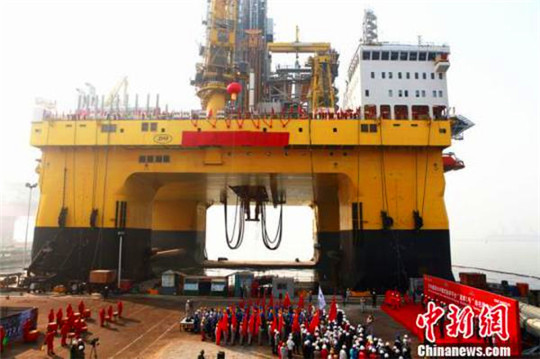 CIMC Raffles workers celebrate on Feb 13 at the delivery ceremony for the ultra-deep-water semi-submersible drilling rig in Yantai, East China's Shandong province. [Photo by Zhong Xiang/chinanews.com]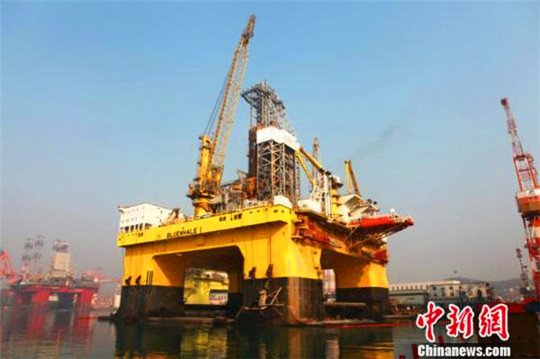 The rig, named "Bluewhale I", features some of the most advanced technology in the world. [Photo by Zhong Xiang/chinanews.com]