China's Square Dancers Fuel Growing Consumer Market
Updated : 2017-01-19
(Xinhua)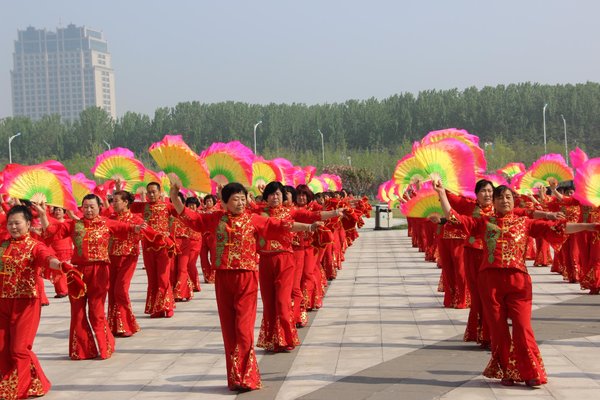 Dancers wearing red outfits and holding fans perform choreographed moves during a square dance performance in the city of Yantai, East China's Shandong province. [Photo/jiaodong.net]
China's ever-growing numbers of square dancers have fueled a prosperous consumption market with many participants happy to spend money on the pastime without reservation.
Authorities recently conducted a survey among dancers, who mostly consist of dama – a word used to describe Chinese women of an advanced age, usually in their 40s or older.
Statistics indicate that there are now more than 100 million square dancers across the country and each spends an average of 300-500 yuan ($45-72) a month on the activity.
Purchases include matching outfits, fans and other props, all of which have become essential requisites for such outdoor performances.
"Even though a woman does not need a reason to buy new clothes, us dancers prefer wearing different outfits for different dance performances," said one enthusiast.
"We think the cost is worth it because later we can have lots of fun doing the activity," she added, whilst showing her team's shopping list of items such as dance shoes, CDs and a portable boombox.
In addition, some hobbyists now even attend training classes or purchase online teaching videos in a bid to achieving higher levels in their beloved recreational activity.
Hong Zhu, 58, has been visiting a local class twice a week for extra dance tuition.
"I have been a member of an outdoor square dancing team for six years. Nowadays, I enjoy attending this additional class, where I can learn choreographed moves from coaches," says Hong.
Nowadays, amateurs also upload their videos onto popular live-streaming platforms, to get more fans and to share dance experiences.
"What's unusual is that it is harder to foster new consumption habits among middle-aged women than young people. There is no doubt that, across the nation, square dancing has attracted many fans," pointed out an expert.