Yantai teachers bring Chinese culture closer to overseas Chinese students
Updated : 2015-09-02
(chinadaily.com.cn)
The city of Yantai in Shandong province conducted an overseas camp among overseas Chinese students in New York from August 14 to 21. It was themed on Chinese culture.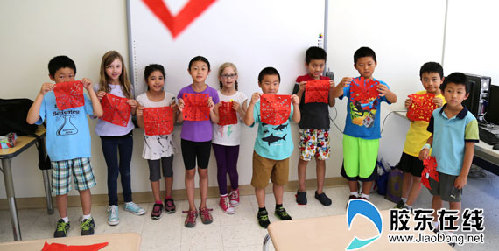 Overseas Chinese students display their paper-cutting works during an overseas camp in New York, Aug 14-21. [Photo/JiaoDong.net]
The Foreign Affairs and Overseas Chinese Affairs Office of Yantai Municipal Government selected five teachers to teach overseas Chinese students subjects of Chinese history, geography, calligraphy, paper-cutting, martial arts, folk dance and theatrical mask making.
Some 100 overseas Chinese students, parents and teachers participated in the activities and enjoyed the profound Chinese culture.
The overseas camp was a boost for cultural communication between China and the US. It also facilitated overseas students' understanding of Chinese culture.
Edited by Shahnawaz Akhtar