Passengers opt for cruise control on ocean waves
Updated : 2015-07-27
By WANG WEN/ZHAO RUIXUE (China Daily)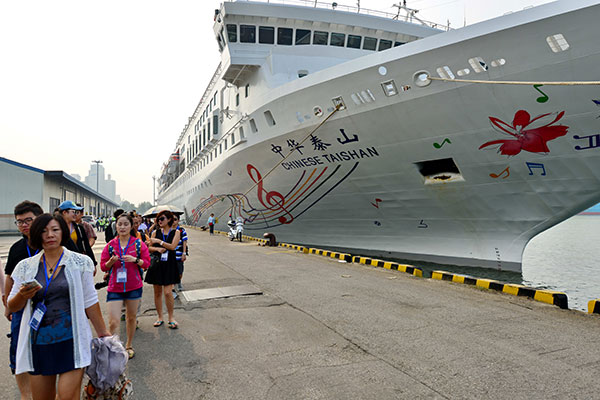 Passengers from the Chinese Taishan cruise liner disembark in Seoul. [Photo/China Daily]
Gao Ming and her husband decided to go on six-day cruise after watching the Oscar-winning film Titanic.
She booked her vacation with Bohai Ferry and traveled onboard the Chinese Taishan from Yantai, Shandong province, to Fukuoka and Sasebo in Japan.
Unlike the ending in the blockbuster film, it was an enjoyable experience and a trip to remember.
"We got the idea to go on a cruise after watching Titanic, and loved the oceangoingvoyage," Gao, 27, said.
"We booked tickets (for a second-class cabin) online, which cost 7,400 yuan ($1,192), but it was still more than 1,000 yuan cheaper than flying to Japan."
With bracing sea air, she savored every minute of her voyage last month and would go on another cruise again.
"There was a great deal to do during the trip," Gao said.
"There were regular stage shows and folk dancing as well as a calligraphy competition. The food was also excellent. The only drawback was that we only had one day on shore when we reached Fukuoka in Japan," she added.
Gao and her husband are part of a growing trend among Chinese holidaymakers who have decided to opt for a slow boat to exotic destinations.
By 2020, the cruise line sector is predicted to contribute 51 billion yuan to the Chinese economy, according to a report by major online travel agency Tongcheng Network Technology Co Ltd, which is based in Suzhou, Jiangsu province.
In the first half of this year, the industry reported a 5 percent growth rate compared to the same period in 2014, with passenger figures topping 380,000.
During the same time-frame, 144 oceangoing excursions left Chinese ports, Tongcheng, which specializes in cruise holidays, pointed out.
Last year, the total figure was 366 for the entire year, the China Cruise and Yacht Industry Association reveal-ed. One reason behind the slight dip was the outbreak last month of Middle East Respiratory Syndrome in South Korea, which is one of the major destinations along with Japan, the Philippines, Vietnam and Singapore.
But the figures are expected to pick up during the peak July and August holiday season.