Intangible cultural heritage: Haiyang yangge (folk dance)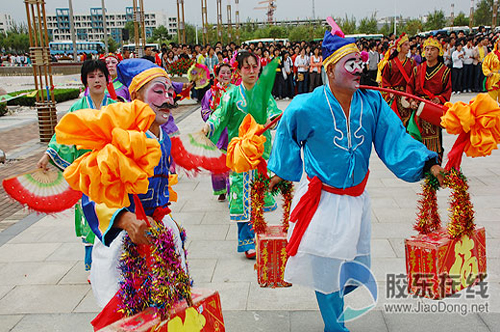 Local people are performing yangge danse. [Photo/JiaoDong.net]
The origin of Haiyang yangge (folk dance) originated from the Han Dynasty (206BC-220) and reached its peak in the mid-Qing Dynasty (1644-1911) when it became an essential part of festival celebrations.
The Haiyang yangge group includes three parts - leader, music band and dancers. The yangge music consists of gongs and drums and folk songs.
Haiyang yangge has been an important part of daily life, although the form and content are constantly changing. Watching or performing yangge has always been a joyous activity for people. Every year, in the first month of the Chinese lunar calendar, yangge will be performed to mark a prosperous new year.
Over the years, Haiyang yangge has been well preserved and transmitted thanks to the joint efforts of experts, scholars and craftsmen. In 1983, the dance department of the Beijing Dance Academy included Haiyang yangge into the required courses. In 1997, Haiyang city was designated as the "Home of Chinese Folk Art" by the Ministry of Culture.