Qufu develops into major destination for cultural tourism
(chinadaily.com.cn) Updated: 2020-05-25
Qufu, the birthplace of Confucius, has developed into a popular destination within China's cultural tourism scene.
Before she began working in the Nishan Sacred Land, Kong Lingmei was a tour guide at Qufu's "San Kong" (the Temple and Cemetery of Confucius and the Kong Family Mansion) for over 20 years.
"Previously, I would give a general introduction of the ancient architecture and Confucius's life and teachings, but this only gave people a very cursory understanding," Kong said.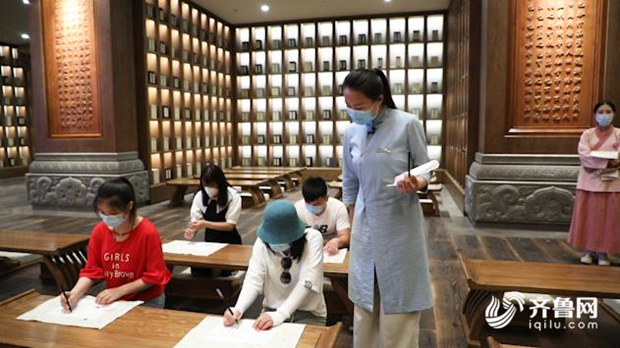 Visitors transcribe quotes from Confucian classics at the Nishan Sacred Land in Qufu. [Photo/iqilu.com]
The new version of "San Kong" (the Nishan Sacred Land, Confucius Institute and Confucius Museum), is part of the city's efforts to strengthen the study and promotion of Confucianism as well as boost cultural tourism.
"At Nishan Sacred Land, visitors can experience Confucius culture through a series of cultural activities, such as worshiping Confucius, transcribing Confucian classics, watching traditional performances and attending cultural lectures," Kong said.
Nishan Sacred Land is located in Nishan Mountain, which is traditionally regarded as the birthplace of Confucius. Covering an area of 35.76 square kilometers, the complex has become a cultural experience center where people can learn about Chinese culture and Confucianism.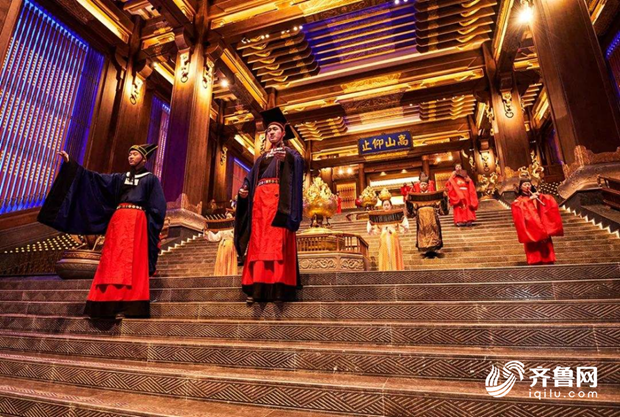 Traditional cultural performances are held at the Nishan Sacred Land. [Photo/iqilu.com]
The Confucius Museum, boasting a total floor space of 57,000 square meters and a 17,000-square-meter display area, brings together nearly 700,000 cultural relics which were once kept privately in the Confucius Family Mansion.
The museum showcases Confucian teachings and relics collected by generations of Confucian disciples and serves as a place to learn about traditional culture, said a local official.
Official statistics showed that last year, the new "San Kong" received a total of 8 million visitors, up 29.9 percent year-on-year. Study tours developed rapidly in Qufu as well, receiving 1.52 million visitors, a year-on-year increase of 52 percent.