Wuxi to cooperate with LeEco in future
(chinadaily.com.cn)
Updated: 2016-08-01
Cao Jiazhong, deputy mayor of Wuxi met with senior executives of LeEco (formerly Letv) to discuss cooperation on projects in the near future on July 20, ipark.net.cn reported.
The meeting was held ahead of the second LeEco Marketing Summit, which was held at Wuxi National Hi-tech District (WND) the following day, where LeEco executives gathered to discuss eco-marketing and industry trends.
LeEco is a diverse technology enterprise and one of the largest online video companies in China.
Cao started the meeting by emphasizing Wuxi's achievements in Internet Plus based advertising with settlement of a succession of noted enterprises since 2014, such as the online news portal TouTiao.com, the smart phone advertising enterprise Domob, and the digital advertising technology company adSage. He pointed out the rapid growth of Internet of Things and the integrated circuits industry in the city, which is home to the only national sensing innovation demonstration area. Wuxi is also the birthplace of China's first manned deep-sea submersible Jiaolong and the world's fastest and most powerful supercomputer, the Sunway TaihuLight.
He concluded his speech by expressing his hope that the city could collaborate with LeEco on smart devices, advertisement marketing, new media and sport industry.
Zhang Minhui, LeEco's president of marketing, gave an address on the different branches of the company, as well as LeEco's marketing concept of "Value Restructuring and Shared Ecosystems". He also expressed his desire for the two sides to work together in the future. LeEco was founded in 2004 and engages in building complete ecosystems consisting of platforms, content, terminals and applications. The company has business interests in R&D for smart TVs, the film industry, electric vehicles and smartphones installed with Letv operating systems as well as e-commerce.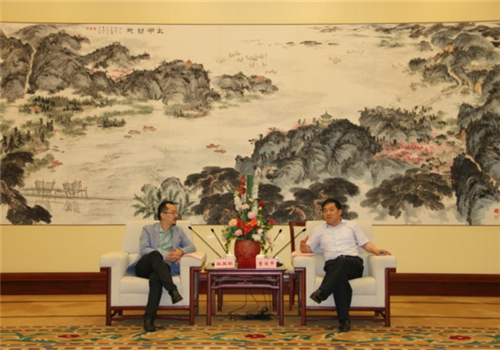 Cao Jiazhong (R), deputy mayor of Wuxi meets with Zhang Minhui, LeEco president of marketing, to talk about their cooperation on July 20. [Photo/ipark.net.cn]
The former Wuxi New District, now known as Wuxi Xinwu district or Wuxi National Hi-tech district, was founded in 1992 and underwent administrative changes in 1995, 2002 and 2005.
>> Read More