Kunshan opens robot-themed restaurant
(chinadaily.com.cn)
Updated: 2014-08-08
A robot-themed restaurant recently opened in Kunshan, Suzhou, Jiangsu province. It is the first of its kind in the Suzhou, as well as the top one in the country in terms of restaurant scale and number of robots.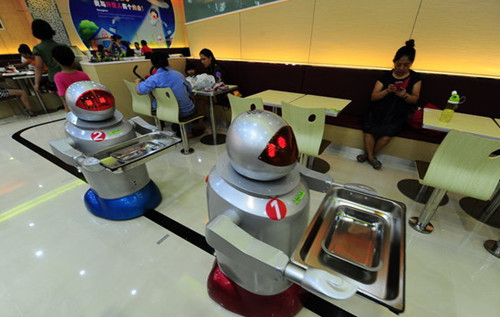 Robots deliver dishes.[Photo/CFP]
The robots, which are between 1.3 and 1.6 meters tall, operate as greeters, entertainers, cooks and waiters. Each robot has a dozen facial expressions and can speak 40 short simple sentences. They walk along magnetic tracks and know how to take shortcuts to reach their destinations.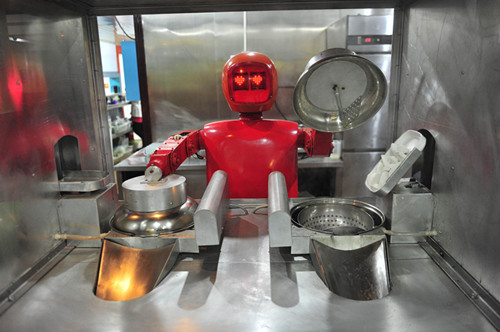 A robot cooks dumplings. [Photo/Asianews Photo]
Four cooking robots can make more than 40 dishes that are comparable to professional work. Each cooking process is programmed by computers, including settings for cooking techniques and ingredients.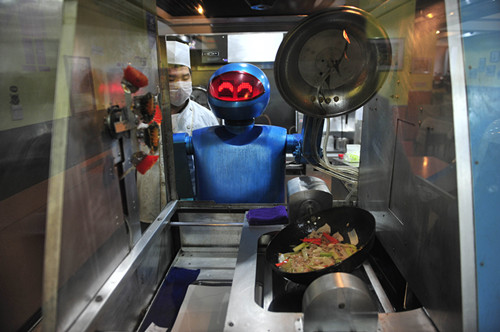 A robot cooks dishes. [Photo/Asianews Photo]
According to Liu Hasheng, chief engineer of the restaurant, a robot that delivers dishes costs 40,000 yuan ($6,486.86), which is equivalent to a waiter's annual salary. Robots will not get sick or ask for leave. They only cost a daily electricity fee of four yuan, and a two-hour recharge allows a robot to work continuously for five hours. The robot-themed restaurant, therefore, aims to create a harmonious relationship between robots and human beings, Liu said, instead of seeing robots as replacements for humans.
Related stories:
Robots make their mark in restaurants, canteen kitchens