Baotou Grand Theatre stages Yue Opera
By Lu Wei Updated: 2017-08-09
A Yue Opera troupe from Nantong, East China's Jiangsu province, impressed audiences with Yue Opera staged at Baotou Grand Theatre on July 29 and 30, reports Baotou Daily.
Yue Opera, also known as Shaoxing opera, is the second most popular opera in China, after Peking Opera. Originating in Shengzhou, East China's Zhejiang province, in 1906, Yue Opera features actresses in male roles.
The opera is highly popular in Zhejiang and Jiangsu provinces, along with Shanghai, which are all neighbors to the birthplace of Yue Opera. Now the opera is being heard outside the Yangtze River Delta area and is increasingly popular in Baotou, North China's Inner Mongolia autonomous region.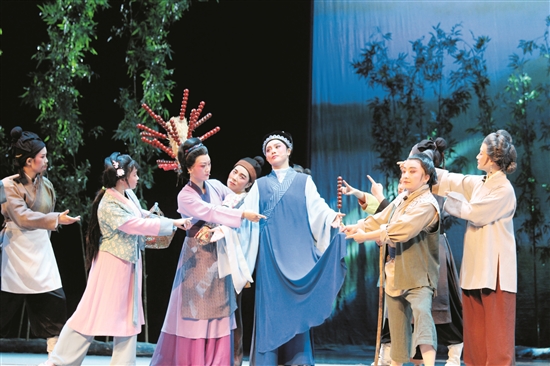 A scene from a Yue opera performed by a troupe from Nantong, Jiangsu province, July 30 [Photo/Baotou Daily]