Baotou Symphony Orchestra to make NCPA debut
By Lu Wei Updated: 2017-06-23
Baotou Symphony Orchestra is set to duet with the China National Symphony Orchestra to debut the symphony Cao Yuan Zhi Ge (Songs from the Steppe) at the National Centre for the Performing Arts (NCPA) in Beijing on June 28.
It will be the first time that Baotou Symphony Orchestra has performed at a national-level arena.
Songs from the Steppe is composed by Chinese composer Ye Xiaogang, and features the folk music of Inner Mongolia, presenting its nomadic grassland and farming culture to the audience with astonishing realism
The symphony will be led by world famous conductor Hu Yongyan, with the orchestra playing, along with classic instruments, the morin khuur (a traditional Mongolian bowed string instrument also known as the horsehead fiddle) and bamboo flutes.
Hu has been guest conductor for leading international symphony orchestras including the French National Orchestra, London's Royal Philharmonic, and Germany's Hamburg Symphony.
Accompanying the orchestras will be International Tchaikovsky Competition winners Ariunbaatar Ganbaatar from Mongolia and Chinese vocalist Wang Chuanyue.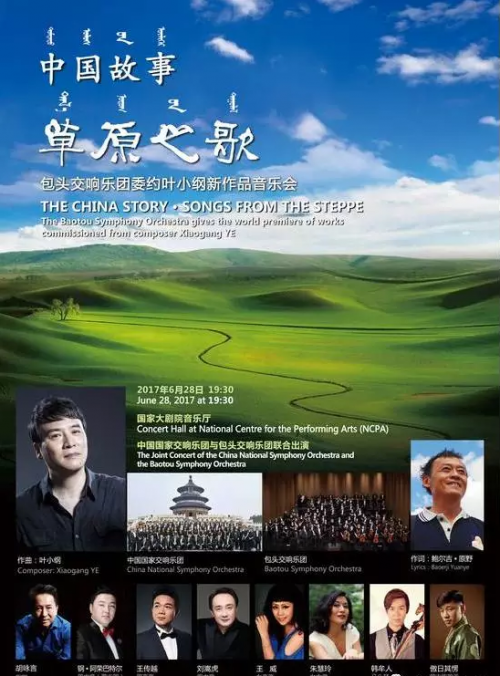 A publicity poster for Cao Yuan Zhi Ge (Songs from the Steppe) – a symphony to be staged by Baotou Symphony Orchestra at the National Centre for the Performing Arts (NCPA) in Beijing on June 28. [Photo/baotounews.com.cn]