Baotou upgrades railway stations for holiday travel rush
By Lu Wei Updated: 2017-01-11
Railway stations in Baotou, the largest city of North China's Inner Mongolia autonomous region, have renovated and upgraded their facilities and services for the upcoming Spring Festival rush, reports Baotou Daily.
The Spring Festival travel rush, or chunyun, is an annual travel rush in China that coincides with Spring Festival, the Chinese New Year holiday. This year's peak travel period will start on Jan 13 and will last for roughly 40 days, coming to an end on Feb 21.
Baotou Railway Station is expected to serve one million passengers during Spring Festival, year-on-year growth of 4.9 percent.
The station has opened a new waiting room measuring 300 square meters, equipped with facilities including free WiFi and USB chargers. The waiting room is divided into five zones, including a service zone and a catering zone. A total of 133 extra seats have been added to the waiting room.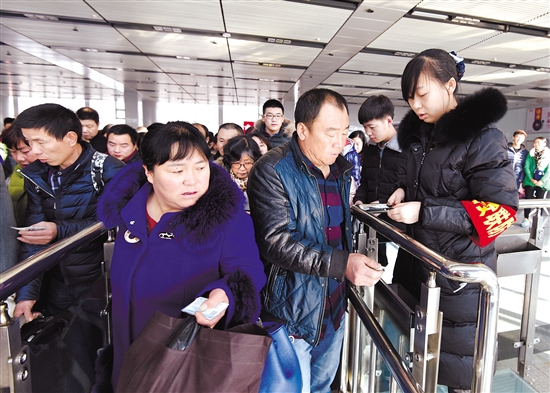 A staff member at Baotou Railway Station checks tickets, Jan 9, 2017. [Photo/Baotou Daily]