Exhibition attendees take an interest in dough
By Lu Wei Updated: 2016-10-27
Craftspeople skilled in modeling dough were invited to an exhibition themed around the history of Qingshan, taking place in Baotou, Inner Mongolia autonomous region, Baotou Daily reported on Oct 26.
The exhibition displayed objects that carry stories and memories of the daily lives of residents throughout history, while also conveying the spirit of persistence and diligence.
Highlights also included onsite demonstrations of some of the cultural traditions of the city.
Baotou dough modeling is a traditional folk art originating in Shanxi province. It uses polished glutinous rice, painted with different colors, and is modeled by hand as well as with some simple tools. The folk art has been listed among items from Baotou's cultural heritage since June 2012, and has only grown in importance since then.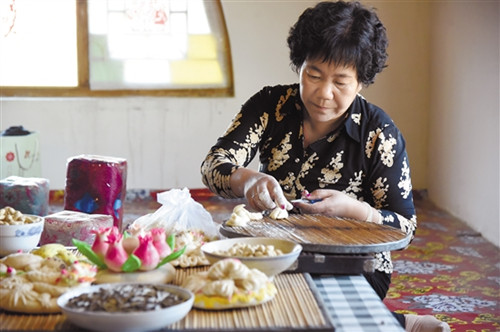 Pan Wufeng modeles dough using traditional techniques, at an exhibition in Baotou, Inner Mongolia autonomous region, Oct 26, 2016. [Photo/Baotou Daily]