Enlightened tourism boosting rural economy
Updated: 2016-04-21
A county known for its fruits in the city of Baotou, Inner Mongolia has attracted a great deal of tourists and income because of its construction work in recent years in a part that has a 200-year history of growing peaches, apricots and plums, so most of its residents live by selling these fruits even though the market competition is causing them to make changes.
So, Goumen county has been developing its leisure tourism since 2013, and with local government help, has taken advantage of its nature and culture, and, with more capital to spend on tourism, support policies and infrastructure work, it has gradually established a better rural tourism system, including fruit picking, rural life, and related activities that inject vigor and vitality into its economy.
There has been a brisk increase in the number of tourists, more than 450,000 coming in 2015 and bringing in at least 30 million yuan ($4.6 million), or about 2,500 yuan per person, and providing about 300 jobs.
Now, its 10,000-hectare sandy Dayan area is well known thanks to its herbal medicine base, flower gardens, picking gardens, music square, farms, camping, barbecue area, bird park, fishing area, folk groups, folk street, Great Wall ruins and historical military site.
It has become a national 4A tourist and leisure spot and an agricultural and husbandry tourism pilot site that is setting a good example of rural tourism.
This April saw the opening of the second apricot blossom festival in the area, drawing in tourists from nearby and far away.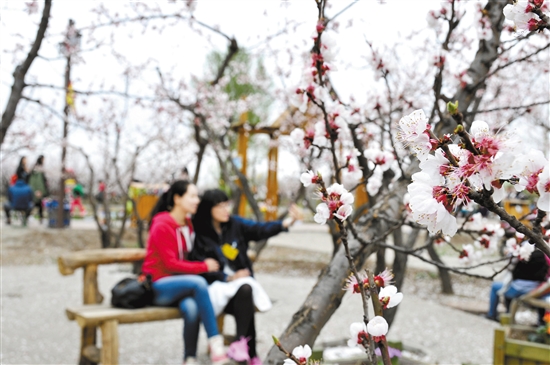 Taking pictures at 2nd Dayan apricot blossom festival. [Photo/Baotou Daily]