News
Changsha county gets new metro lines
(en.csx.gov.cn)
Updated: 2019-02-21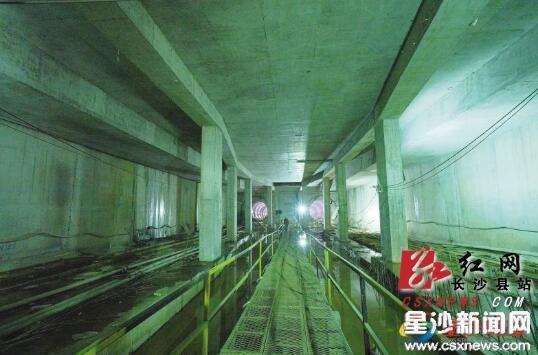 Main construction on the Xingsha Cultural and Sports Center Station is completed. [Photo by Zhang Di/csxnews.com]
The people of Changsha county will soon reap the benefits of the four metro lines currently under construction.
Construction on all metro routes is now in full swing. Line 3 is estimated to be ready for a pilot run by the end of the year, Line 4 is set for completion in May, Line 5 is expected to start operating next year, and Line 6 is expected to open in 2022.
Changsha Metro Line 3 is 36.5 kilometers long and six stations over a length of 7.6 kilometers are located in Changsha county. Five of them have completed construction on major structures and three sections have been connected.
Metro Line 4 is 33.5 kilometers long and has two stations in Changsha county's Huangxing town. It has already passed its pilot test and is expected to start carrying passengers in May, allowing Huangxing residents to take the metro to important places such as the high-speed railway station.
The shortest route is Line 5 with a length of 22.5 kilometers. Changsha county's two stations have already been completed, but the section between them is still being built.
Line 6 is the longest route, has the most transfer stations, and spans the most districts. It has a length of 48.1 kilometers, of which 12 kilometers are located in Changsha county. It starts from Xiejiaqiao Station and extends westward to the Changsha Huanghua International Airport.
Wang Wende, an employee at the coordination department of Changsha county's key project management bureau, said that the department in charge of metro engineering in Changsha county will guarantee a safe, respectable, and civilized construction process.
In recent years, the local government has sought to revive the region's long tradition in porcelain making and boost local industry with the cultural influence of ancient Tongguan kilns, which have a history of 1,200 years.
Contact Us
Tel: +86(0731)-8401-8486
Add: No.19, Kaiyuan Rd, Xingsha, Changsha county