Travel Around
Take an industrial tour in Quantang subdistrict
(chinadaily.com.cn)
Updated: 2018-09-20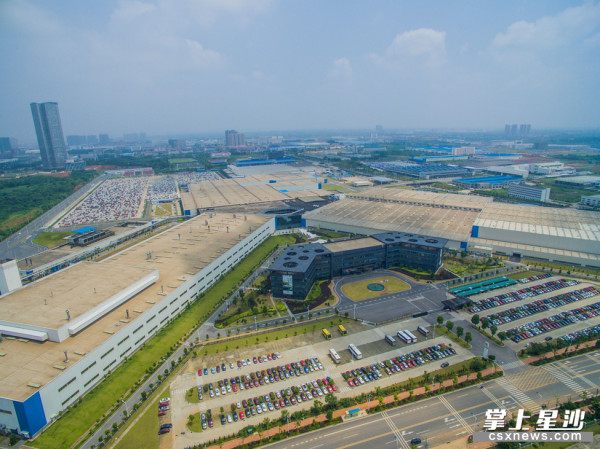 Aerial view of GAC Fiat Chrysler Automobiles Co [Photo/csxnews.com]
Founded in December 2009, Quantang Subdistrict is located in southeast Changsha county. It has an area of about 20.84 square kilometers, accounting for two-thirds of the total area of the Changsha Economic Technological Development Zone. Unlike other rural towns, which are surrounded by mountains and rivers, Quantang is full of skyscrapers and cars.
Industrial tourism is the main reason to visit Quantang. More than 300 enterprises have operations here, including the famous German enterprise Bosch Group, automobile giants GAC Mitsubishi Motors Co and GAC Fiat Chrysler Automobiles Co, beverage developer Wahaha Group, and several famous local enterprises such as Broad Group, Vary Technology Co, Kaitian Environmental Technology Co, Minghe Opto Tech Group, Sunward Intelligent Equipment Group, and more.
Here visitors can observe industrial robots forming slabs of steel into cars, tour sensory experience facilities in the plant maze of the natural exploration zone, and catch a bird's-eye view of Changsha county from the 57-story roof garden. Moreover, visitors can witness the advanced food processing line in the workshops of Wahaha, enjoy high-tech light shows brought about by Minghe Opto Tech, learn how pollutants can be eliminated, and even pilot an airplane under guidance at the air base of Sunward Intelligent.
In addition, Quantang also has leisure resorts, such as Zhongmao Shopping Mall, Nanchu Ancient Town, and Hong Kong Style Street. An international film art center, starred hotels, and local specialty foods are also available for tourists.
Quantang subdistrict not only contributes a lot to the economic development of Changsha county, but is also being developed as an attractive tourist destination.
Industrial tourism is tourism in which the destination includes industrial sites specific to a particular location. The concept is not new, as examples include wine tours in France, visits to cheesemakers in the Netherlands, and Jack Daniel's distillery tours in the United States, but it has taken on renewed interest in recent times, with both industrial heritage sites and modern industry attracting tourism. The most obvious industrial tourism destinations are places with a solid industrial base.
In recent years, the local government has sought to revive the region's long tradition in porcelain making and boost local industry with the cultural influence of ancient Tongguan kilns, which have a history of 1,200 years.
Contact Us
Tel: +86(0731)-8401-8486
Add: No.19, Kaiyuan Rd, Xingsha, Changsha county