Travel Around
Peonies in Changsha county ready for tourists
(chinadaily.com.cn)
Updated: 2018-04-03
Changsha county is going to dazzle tourists with thousands of peonies in full bloom with the first peony-themed art festival projected to kick off on April 5 in Jingran Popular Science Base.
Known as a traditional floral symbol of China, peonies have been used and cultivated for medicine and ornaments in China since early history.
They were particularly popular during the Tang Dynasty (618-907), when they were grown in the imperial gardens and viewed as the "king of flowers". Now, peonies symbolize wealth and social status and are the national flower of China.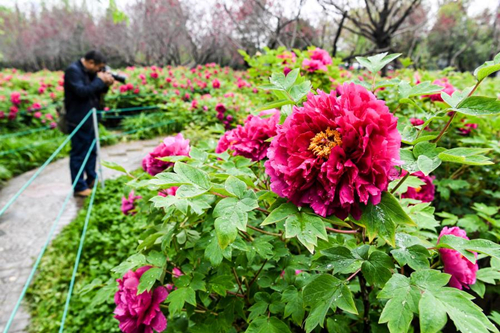 Peonies flourish in Luoyang, Central China's Henan province which was an imperial capital for 13 dynasties throughout Chinese history and is famous for its peonies. [Photo/Xinhua]
Generally, peonies grow well in acid soil and dry condition, so vast fields may be seen in North China but the national flower is scarce in South China. Most of the peonies in Hunan province bloom annually.
The Jingran Popular Science Base, providing technical support for the festival, has succeeded in localizing various specialties that now offer their beauty across 50 acres (0.5 hectare) of land. It's reported that hundreds of varieties of peonies will burst into bloom in the base, which will be open to visitors from 9: 00am to 5:00pm on April 5-7.
In addition to the natural beauty, a series of activities, such as art performances, science education, golf and ikebana or flower arranging, will also be launched during the three-day festival.
Online booking is available and costs much less. Two ticket packages are offered: an entrance ticket and a buffet costs 68 yuan ($10.83) while an entrance ticket, buffet, tickets for the children's entertainment park and golf costs 108 yuan.
Seniors aged 70 and above, and children below 1.3 meters are free.
In recent years, the local government has sought to revive the region's long tradition in porcelain making and boost local industry with the cultural influence of ancient Tongguan kilns, which have a history of 1,200 years.
Contact Us
Tel: +86(0731)-8401-8486
Add: No.19, Kaiyuan Rd, Xingsha, Changsha county