News
Changsha named UNESCO Creative City
(chinadaily.com.cn)
Updated: 2017-11-03
Changsha has become the first Chinese city to be recognized as a UNESCO Creative City in media arts, the global organization announced on Nov 1.
The international recognition for Changsha for its efforts in cultural creativity, innovation and media arts comes after the Hunan province city was selected as the "Capital of East Asian Culture" for the East Asian City of Culture campaign in 2016.
The UNESCO Creative Cities Network (UCCN), created in 2004, was established to promote cooperation among cities that have identified creativity as a strategic factor for sustainable urban development.
The UCCN covers seven creative fields, namely Crafts & Folk Art, Design, Film, Gastronomy, Literature, Music and Media Arts. "It's a great honor for Changsha to win the title," Changsha Mayor Chen Wenhao said at a press conference on the same day.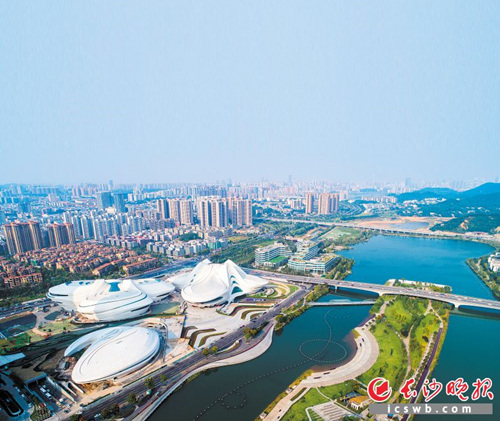 Meixihu International Culture and Art Center, a new cultural landmark in Changsha, opens to the public on Aug 31, 2017. [Photo by Huang Qiqing/icswb.com]
Changsha's joining in the UCCN presents an opportunity to promote the cultural prosperity and help Chinese culture go global, he added. Du Yue, secretary-general of the National Commission for UNESCO in China, said that Changsha has done an excellent job in promoting cultural development and has become internationally competitive in that area.
As a pivot city of the Belt and Road Initiative, Changsha boasts its fair share of cultural heritage as well as innovation and creativity in this field, Du added.
The Hunan province capital will further the construction of cultural innovation platforms, quicken its pace to develop the Malanshan cultural and creative zone and build itself as a world-class hotbed for innovation, according to the city mayor.
Changsha will increase efforts to promote its cultural industry, turning it into a new engine to drive sustainable urban development, through advancing the construction of industrial parks and arts towns, strengthening the mass participation in cultural life and integrating local culture into urban development.
In recent years, the local government has sought to revive the region's long tradition in porcelain making and boost local industry with the cultural influence of ancient Tongguan kilns, which have a history of 1,200 years.
Contact Us
Tel: +86(0731)-8401-8486
Add: No.19, Kaiyuan Rd, Xingsha, Changsha county