Specials
A season of fruit and flowers in Changsha county

Updated: 2016-08-01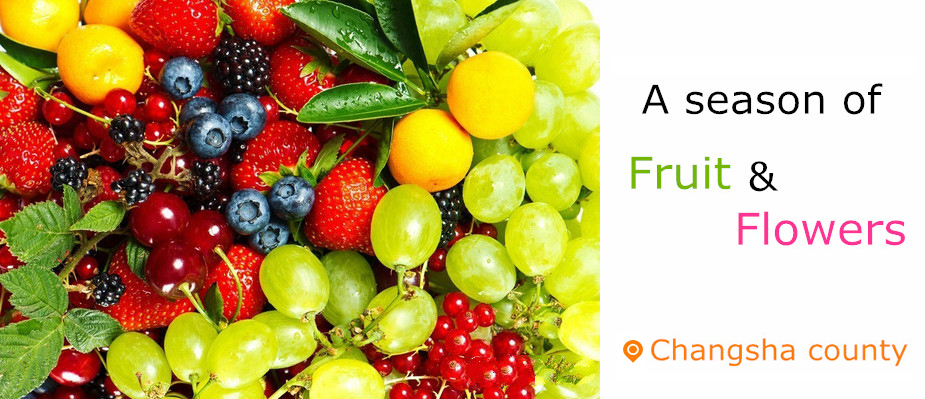 As the first national ecological county as well as the No 1 county in economic strength in Central China, Changsha seeks to preserve local ecology: its thriving industries use up only one percent of the county's land, with the other 99 percent devoted to farming and environmental preservation.
Let's have a look at the produce the county has to offer for sweet and fragrant refreshment: 
Grapes ripen in Changsha county

About 7,000 mu (466.67 hectares) of local grapes ripen gradually, ready to welcome visitors. They will arrive in shops in large quantities at the end of July.

Qingshanpu town, known as the "town of grapes", grows over ten varieties and holds a month-long grape festival at the end of July or in August every year.

Studies show that grapes have numerous health benefits such as possible prevention of cancer and reduction of heart disease and high blood pressure.

Short, sweet fig season comes to Chunhua town

Lusciously sweet figs have started to appear on the market in Changsha county, adding to a bountiful summer fruit season.

Kaihui Lotus Festival 

The first lotus festival of Changsha county opened in Piaofeng Villa, Kaihui town in early July.

Acres of lotuses are in full blossom in the villa, creating an illusion for visitors of roaming inside a pink and green painting.

Dishes featuring lotus ingredients during the festival

The lotus festival will last for two months and offer a series of activities, including weekly BBQ parties with beer and music, family games and camping.

Pear orchard opens for picking

A Wonwhang pear orchard in Kaihui town, Changsha county has opened to visitors for fruit-picking. The Wonwhang pear, a medium flowering cultivar introduced from South Korea, is a popular variety in Asian markets for its juicy pulp and sweet taste.

Liu picks pears in her orchard.

"Thanks to intense sunlight and rising temperatures, our pears grow fast with high sweetness," said Liu Xiaoying, the orchard's principal. Apart from its golden-bright body and juicy pulp, the Wonwhang pear also offers plentiful nutrition, including various minerals and vitamins, added Liu.

Plums in Kaihui

In Kaihui town, over 300 mu of plums ripen gradually between July and September every year, giving people a good way to cool down in summer.

Lotus Fairy Lady in Chunhua festival

Chunhua town in Changsha county opened a

lotus festival

on July 16, following in the footsteps of its brother town Kaihui, where a similar festival opened a few days earlier.

 

A little girl smells the lotus fragrance Enjoying the fragrance of the Qunyi lotus pond in Huayuan New village, viewing the magnificent Chunhua Aqueduct, picking grapes, catching crayfish and loaches, and appreciating photography exhibitions highlighting impressions of Chunhua -- these delights can give tourists a tranquil and mellow summer along with some knowledge gained directly from nature.

 Watermelons in Chunhua town

A watermelon farmer is pleased with her bumper havest. Chunhua town abounds with watermelons featuring thin skins, rare seeds and sweet flesh. The watermelons often start to hit the shops in every June.

Blueberries in Lukou town

The blueberry, renowned as the "queen of fruits", is an excellent source of Vitamin C and high in manganese that helps the body process carbohydrates and protein.

There are over 10 varieties of blueberries growing in a planting base in Mingyue village, Lukou town, maturing from June to September every year.

 

Peaches in Kaihui

Kaihui also has over 2,000 mu (133.33 hectares) of peaches with lovely aroma and sweet pulp. The peaches ripen in June and July.

Happy peach farmer

Peaches are a rich source of vitamins, minerals and antioxidants that contribute to body health and skin care.